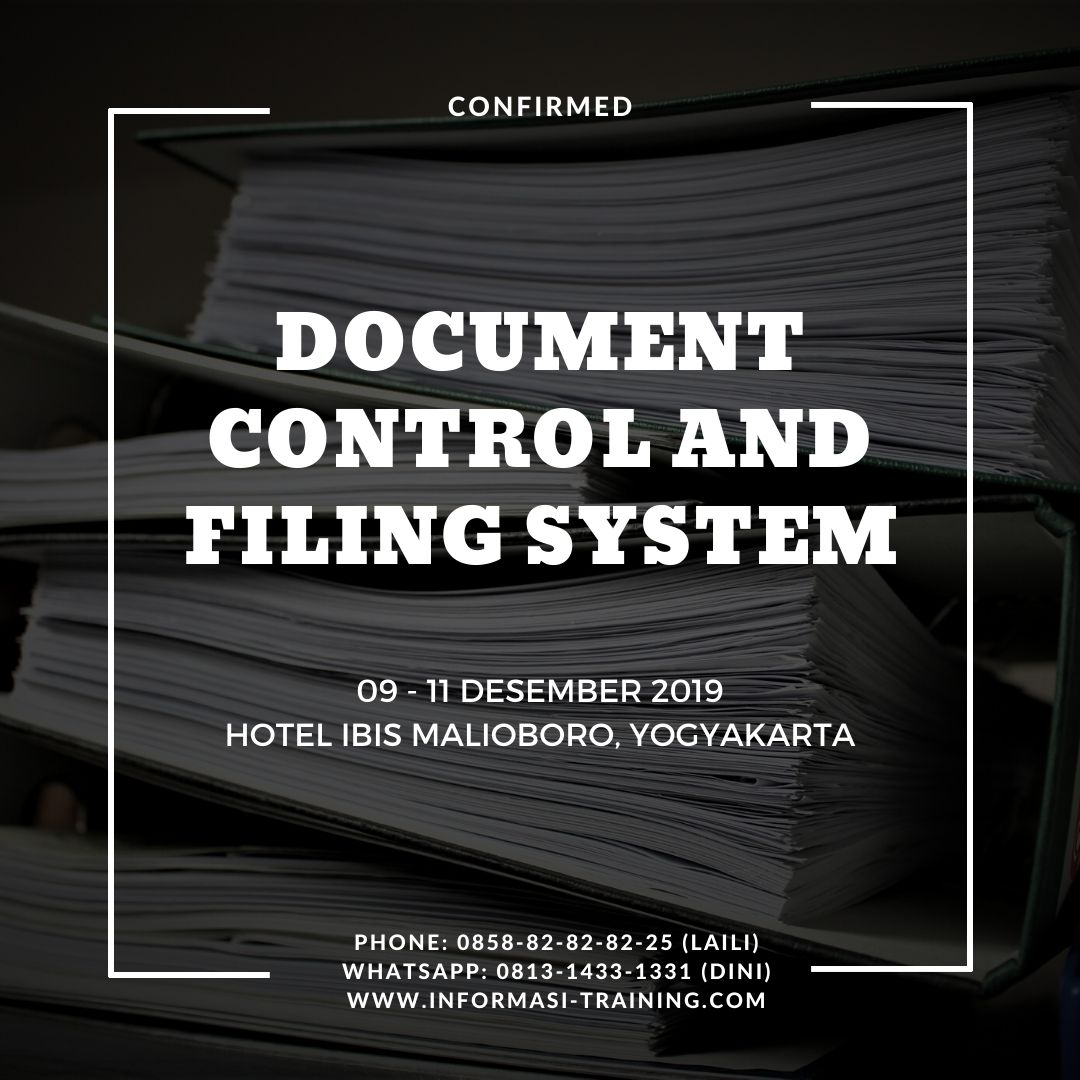 Acara
09 – 11 Desember 2019 | Rp 5.900.000,- per peserta di Hotel Ibis, Yogyakarta – CONFIRMED
16 – 18 Desember 2019 | Rp 5.900.000,- per peserta di Hotel Ibis, Yogyakarta
Jadwal Training 2019 Selanjutnya …
06 – 08 Januari 2020 | Rp 6.900.000 per peserta di Hotel Ibis Malioboro, Yogyakarta
Jadwal Training 2020 Selanjutnya …
Deskripsi Training Document Control and Filing System

Pengelolan arsip atau dokumen secara sistematis dan terintegrasi sangat diperlukan dalam mendukung kegiatan operasional perusahaan sehari hari.   Pemahaman tentang bagaimana mengarsip,mengelola dan mengontrol dokumen sangat vital dalam penyediaan informasi yang up to date dan tepat bagi perusahaan. Pemanfaatan system informasi dan teknologi filing system merupakan kebutuhan yang tidak terelakkan lagi dalam memanage data dan dokumen yang riil time. Training ini akan membahas tentang bagaimana melakukan pengarsipan dan pengelolan dokumen kantor sehingga dokumen selalu dalam keadaan siap diperlukan, up to date dan dalam keadaan terkontrol.
Tujuan Training Document Control and Filing System

Peserta memahami dan dapat mengimplementasikan pola penyimpanan arsip atau document control yang efektif, cepat dan tepat serta efisien serta mampu memanfaatkan sistem informasi filing system.
Materi Training Document Control dan Filing System
1. Ruang lingkup document control dan filing system
2. Dokumentasi dan Pengarsipan
Pengertian arsip dan pengelolaan arsip
Jenis arsip
Tujuan Pengelolaan Arsip
Penggandaan dan pendistribusian arsip
Penataan arsip (klasifikasi dan pengkodean arsip)
Pemeliharaan dan penyimpanan arsip vital
Peminjaman arsip
Penyusutan arsip
Hal-hal yang harus diperhatikan dalam pengelolaan arsip
3. Sistem Pemberkasan Dokumen
Pengawasan berkas terpusat dan tersebar berbasis analisis bisnis, Prinsip klasifikasi,
Klasifikasi abjad: sistem kamus, sitem ensiklopedia dan sistem geografis, dan klasifikasi angka, sistem pemberkasan desimal, sistem pemberkasan kronologis, dan klasifikasi alfanumerik,
Pengindeksan dan Kualitas indeks,
Pengindeksan kata penting (KWIC and KWOC),
Pengindeksan alfabetikal,
Prosedur pemeliharaan berkas,
Pengawasan berkas,
Pengelompokan berkas,
Disposisi,
Pengelolaan ruang berkas, dan
Masalah umum pemberkasan.
4. Manajemen Dokumen Elektronik
Perencanaan
Survei dokumen dan informasi,
Penilaian dokumen
Meta data dan kebijakan
Strategi kontekstual
Keamanan dan kualitas, dan preservasi informasi
5. Digital Filing System dan Aplikasi Electronic Document Management System (EDMS)
Konsep digital filing system & perangkat pendukungnya
Isu Legalitas Arsip Digital
Prosedur Alihmedia/Imaging Document
Kategori pengenalan Scanner
Kategori dan komponen EDMS
Integrasi EDMS dengan Informasi dan tempat penyimpanan
Alat dan Media Penyimpanan (storage)
Kompanen Biaya pada implementasi EDMS
6. Otomatisasi Kegiatan Administrasi Perkantoran
Makna dan dampak otomatisasi dalam administrasi perkantoran
Aplikasi otomatisasi dalam administrasi perkantoran
Teknologi Informasi dalam Administrasi Perkantoran
Software untuk administrasi perkantoran
Sistem Arsip Elektronik
Sistem Informasi Manajemen
Manajemen basis data
LAN, intranet, dan internet
Peserta Training
Pimpinan (manajer/supervisor/head section) atau support personnel (staf Administrasi/Sekretaris) yang terlibat dalam kegiatan administrasi kantor atau pengarsipan dokumen perusahaan
Metode Training

Presentasi, Diskusi , Brainstorming, Case Study,Evaluasi
Hotel Ibis Malioboro, Yogyakarta
9 – 11 Desember 2019
16 – 18 Desember 2019
23 – 24 Desember 2019
30 – 31 Desember 2019
Hotel Ibis Malioboro, Yogyakarta
6 – 8 Januari 2020
13 – 15 Januari 2020
20 – 22 Januari 2020
27 – 29 Januari 2020
3- 5 Februari 2020
10 – 12 Februari 2020
17 – 19 Februari 2020
26 – 28 Februari 2020
2 – 4 Maret 2020
9 – 11 Maret 2020
16 – 18 Maret 2020
23 – 24 Maret 2020
30 Maret 2020 – 1 April 2020
6 – 8 April 2020
13 – 15 April 2020
20 – 22 April 2020
27 – 29 April 2020
4 – 6 Mei 2020
11 – 13 Mei 2020
2 – 4 Juni 2020
8 – 10 Juni 2020
15 – 17 Juni 2020
22 – 24 Juni 2020
29 Juni 2020 – 1 Juli 2020
6 – 8 Juli 2020
13 – 15 Juli 2020
20 – 22 Juli 2020
27 – 29 Juli 2020
3 – 5 Agustus 2020
10 – 12 Agustus 2020
18 – 19 Agustus 2020
24 – 26 Agustus 2020
31 Agustus 2020 – 2 September 2020
7 – 9 September 2020
14 – 16 September 2020
21 – 23 September 2020
28 – 30 September 2020
5 – 7 Oktober 2020
12 – 14 Oktober 2020
19 – 21 Oktober 2020
26 – 28 Oktober 2020
2 – 4 November 2020
9 – 11 November 2020
16 – 18 November 2020
23 – 25 November 2020
30 November 2020 – 2 Desember 2020
7 – 9 Desember 2020
14 – 16 Desember 2020
21 – 23 Desember 2020
28 – 30 Desember 2020
Investasi & Fasilitas
Rp 5.900.000 (Non Residential) >>> investasi 2019
Rp 6.900.000 (Non Residential) >>> investasi 2020
Jika Perusahaan/ Instansi mengirimkan lebih dari satu peserta pada judul dan tanggal yang sama maka akan di berikan potongan harga pada peserta kedua dan seterusnya masing – masing sebesar Rp 1.000.000 per peserta
VIP training Rp 7.900.000 >> (2019), VIP training Rp 8.900.000 >> (2020) (4 Hari , Non Residential dengan tambahan Fasilitas Paket studi lapangan/ City tour dan Belum Termasuk Pajak PPn 10%)
Quota minimum 2 peserta
Fasilitas: Certificate, Training kits, USB, Lunch, Coffe Break, Souvenir
Untuk peserta luar kota disediakan transportasi antar-jemput dari Bandara/ Stasiun ke Hotel khusus bagi perusahaan yang mengirimkan minimal 3 orang peserta)
Dra MC. Maryati MM
Hanafi Ahmad ST MT
And team
DOCUMENT CONTROL AND FILING SYSTEM