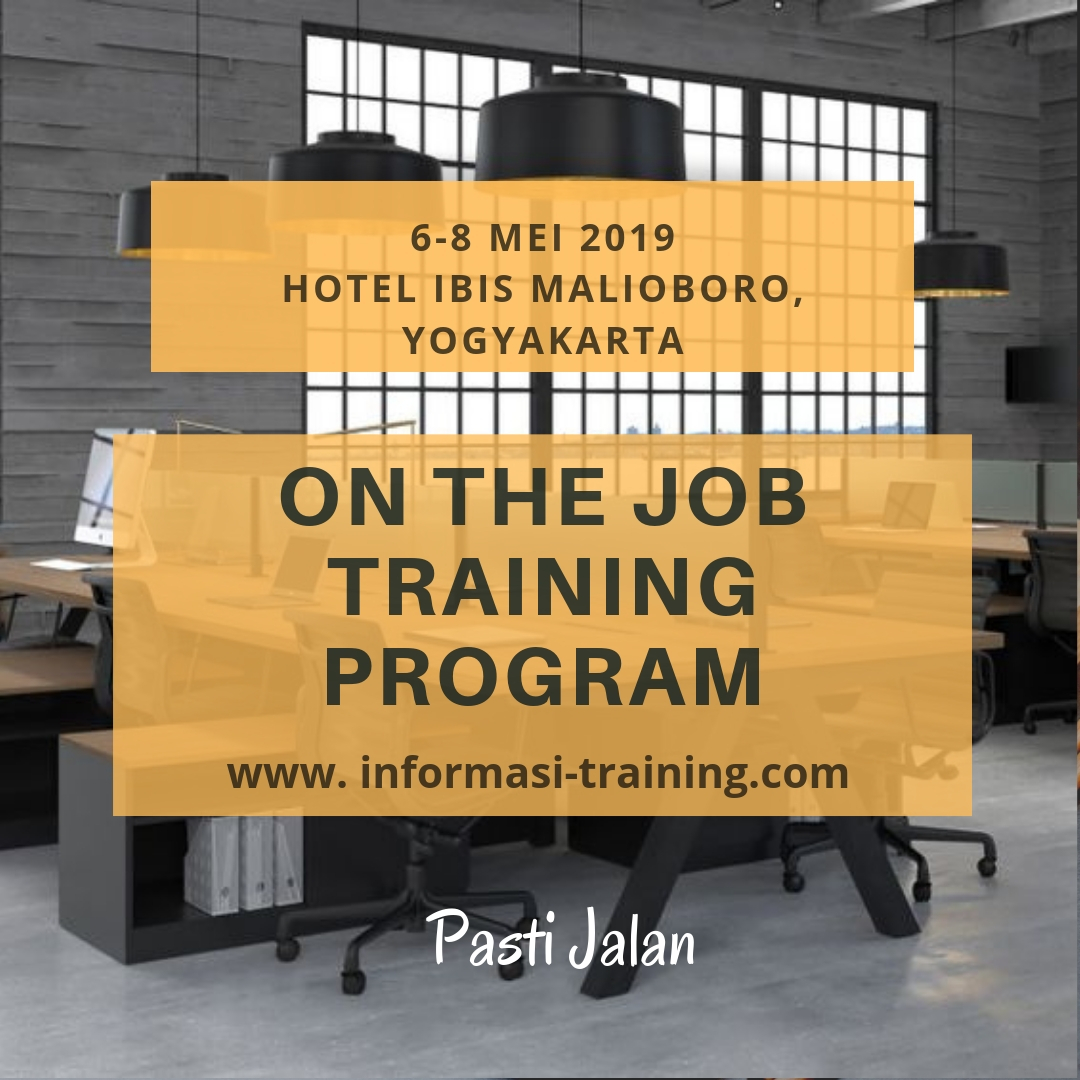 ACARA
29 – 30 April 2019 | Rp 5.900.000,- per peserta di Hotel Ibis, Yogyakarta
06 – 08 Mei 2019 | Rp 5.900.000,- per peserta di Hotel Ibis, Yogyakarta – CONFIRMED
13 – 15 Mei 2019 | Rp 5.900.000,- per peserta di Hotel Ibis, Yogyakarta
20 – 22 Mei 2019 | Rp 5.900.000,- per peserta di Hotel Ibis, Yogyakarta
27 – 29 Mei 2019 | Rp 5.900.000,- per peserta di Hotel Ibis, Yogyakarta
Jadwal Training 2019 Selanjutnya . . .
Deskripsi Training OJT (On The Job Training) Program
Mengingat pentingnya kualitas dan keterampilan sumber daya manusia di dalam dunia kerja, pelatihan bagi karyawan memang sangat diperlukan. Karyawan yang kompeten merupakan aset penting untuk perkembangan perusahaan. On the job training merupakan pelatihan kerja yang dilaksanakan seiring perkerjaan berlangsung. Training ini bertujuan untuk merancang strategi untuk pelaksanaan on the job training yang efektif.
Tujuan Training OJT (On The Job Training) Program

Peserta mampu memahami konsep pelatihan OJT (On the Job Training)
Peserta mampu merancang pelatihan

OJT

yang efektif
Peserta mampu mengimplementasikan pelatihan OJT
Materi Training OJT (On The Job Training) Program
Konsep On the Job Training
Identifikasi objek training
Tipe-tipe OJT

Skills training
Retraining
Cross functional training
Team training
Creativity training

Metode OJT

Job instruction training
Apprenticeship
Internship dan assistantship
Job rotation dan transfer
Junior board dan committee assignment
Coaching dan counseling

Breakdown tugas yang sesuai dengan bidang karyawan
Strategi perancangan OJT yang efektif
Implementasi OJT
Studi kasus
Peserta Training OJT (On The Job Training) PROGRAM
Manajer HRD atau Manajer Pelatihan dan Pengembangan
Supervisor Pelatihan dan Pengembangan
Staf unit pelatihan
Hotel Ibis Malioboro ,Yogjakarta
25 – 27 Maret 2019
1 – 2 April 2019
8 – 10 April 2019
15 – 17 April 2019
22- 24 April 2019
29 – 30 Mei 2019
6 – 8 Mei 2019
13 – 15 Mei 2019
20 – 22 Mei 2019
27 – 29 Mei 2019
10 – 12 Juni 2019
17 – 19 Juni 2019
24 – 26 Juni 2019
1 – 3 Juli 2019
8 – 10 Juli 2019
15 – 17 Juli 2019
22 -24 Juli 2019
29 – 31 Juli 2019
5 – 7 Agustus 2019
13-15 Agustus 2019
19 – 21 Agustus 2019
26 -28 Agustus 2019
02 – 04 September 2019
09-11 September 2019
16 – 18 September 2019
23 – 25 September 2019
30 September – 02 Oktober 2019
07 – 09 Oktober 2019
14 – 16 Oktober 2019
21 – 23 Oktober 2019
28 – 30 Oktober 2019
04 – 06 November 2019
11 – 13 November 2019
18 – 20 November 2019
25 – 27 November 2019
02 -04 Desember 2019
9 – 11 Desember 2019
16 – 18 Desember 2019
23 – 24 Desember 2019
30 – 31 Desember 2019
Investasi dan Fasilitas
Rp 5.900.000 (Non Residential)
Quota minimum 2 peserta
Fasilitas: Certificate,Training kits, USB,Lunch,Coffe Break, Souvenir
Untuk peserta luar kota disediakan transportasi antar-jemput dari Bandara/Stasiun ke Hotel (berlaku bagi perusahaan yang mengirimkan minimal 3 peserta)
Instruktur
Ir. Elisa Kusrini MT CPIM
MERANCANG OJT PROGRAM