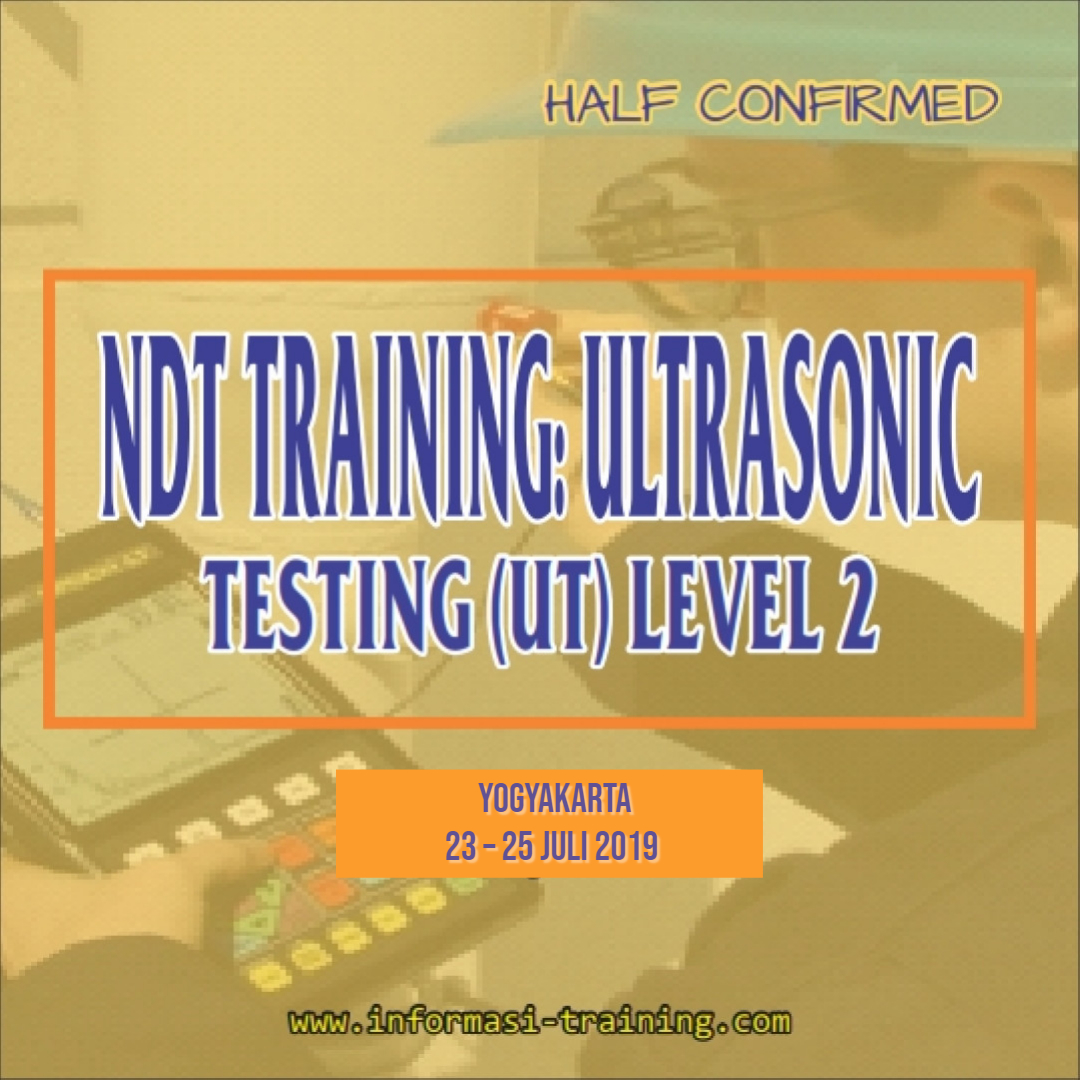 Acara
27 – 29 Agustus 2019 | Rp 6.000.000,- di Yogyakarta
10 – 12 September 2019 | Rp 6.000.000,- di Yogyakarta
15 – 17 Oktober 2019 | Rp 6.000.000,- di Yogyakarta
Jadwal Training 2019 Selanjutnya …
DESKRIPSI TRAINING NDT ULTRASONIC TESTING (UT) LEVEL 2
Training NDT ini diselenggarakan agar peserta memahami mengenai NDT (Non Destructive Uji) prinsip-prinsip teknik untuk desain dan aplikasi, manufaktur dan konstruksi plant, serta maintenance-nya. Pelatihan ini juga membekali peserta untuk dapat menerapkan prosedur NDT yang benar terkait sehubungan dengan teknik aplikasinya di lapangan.
Spesifikasi yang akan diberikan dalam training ini adalah tentang Ultrasonic Testing (UT). Ultrasonic Testing (UT) menggunakan energi suara frekuensi tinggi untuk melakukan pemeriksaan dan membuat pengukuran. Pemeriksaan ultrasonik dapat digunakan untuk mendeteksi cacat / evaluasi, pengukuran dimensi, karakterisasi material, dan banyak lagi. Meskipun ada beberapa teknologi menggunakan ultasound, penjelasan sederhana dari apa yang terjadi dalam metode ini adalah bahwa energi suara diperkenalkan melalui transduser dan merambat melalui materi dalam bentuk gelombang. Ketika ada diskontinuitas (seperti celah) di jalur gelombang, sebagian energi akan dipantulkan kembali dari permukaan. Sinyal gelombang yang dipantulkan diubah menjadi sinyal listrik oleh transducer dan ditampilkan atau direkam dalam berbagai cara. Kedua permukaan dan bawah permukaan dapat dideteksi melalui metode pengujian volumetrik ultrasonic. Kompleksitas variasi aplikasi dari yang terkecil, unit hand-held manual yang sangat besar, sistem otomatis yang canggih. Metode ini digunakan untuk memeriksa berbagai bentuk produk termasuk casting, forging, dan weldments. Struktural baja, otomotif, petrokimia, pembangkit listrik, dan industri kedirgantaraan adalah beberapa contoh yang memanfaatkan pemeriksaan ultrasonik.
Seorang yang bersertifikat UT Level 2 adalah personil yang memenuhi syarat untuk dapat:
Memilih  teknik uji yang tepat, peralatan dan probe
MenSet up dan kalibrasi peralatan
Melakukan pengujian dan menginterpretasikan hasil sesuai standar yang berlaku
Memiliki pengetahuan tentang ruang lingkup dan keterbatasan UT
Akrab dengan proses produksi dari bahan uji dan pengetahuan tentang jenis dan lokasi cacat yang diharapkan
Untuk mengembangkan teknik UT untuk pengujian pekerjaan tertentu
Menyiapkan laporan pengujian untuk i. Terima ii. Tolak iii. mengolah lagi
Menyiapkan instruksi tertulis untuk Tingkat I
Membimbing dan memeriksa hasil tes Tingkat I operator
Bertanggung jawab untuk perawatan dan pemeliharaan peralatan NDT / U
Materi pelatihan disajikan dengan cara yang memberikan pemahaman dan kemampuan untuk membuat aplikasi langsung. Pelatihan ini diberikan dalam durasi 3 hari menyajikan tinjauan teori ultrasonik dasar, evaluasi weldments, teknik yang inovatif untuk mendeteksi dan mengevaluasi diskontinuitas, peralatan dan metode kalibrasi canggih.
Melalui pelatihan ini, peserta akan mempelajari berbagai teknik yang terlibat dalam uji ultrasonik. Metode pelatihan yang digunakan dalam pelatihan ini adalah adalah presentasi mengenai teori diikuti dengan pelatihan praktis sekitar tes non-destruktif. Kursus ini akan mendorong peserta untuk melakukan diskusi kelompok sekitar masalah praktis dan memberikan keahlian lapangan tentang bagaimana mengatasinya
TUJUAN TRAINING NDT ULTRASONIC TESTING (UT) LEVEL 2
Tujuan dari pelatihan adalah untuk memberikan pengetahuan  dasar prinsip Pengujian Ultrasonik ,dasar-dasar material dan proses sehingga peserta pelatihan akan mampu:
Mengidentifikasi kesesuaian UT untuk teknik material dan inspeksi
Mengembangkan teknik dan prosedur yang dapat diikuti oleh Operator Tingkat I
Menganalisis hasil pengujian dan mendokumentasikan
Menjadikan lebih familier  dengan kode, standar dan spesifikasi UT untuk mengevaluasi hasil tes
Melakukan pengujian dengan memperhatikan aspek Keselamatan
Melakukan pengujian secara benar sertata dapat melakukan interpretasi dan evaluasi revenues UTR
MATERI TRAINING NDT ULTRASONIC TESTING (UT) LEVEL 2
Materi yang akan disampaikan dalam pelatihan ini adalah:
Review singkat materi NDT UT Level 1
Pengetahuan Material
Prinsip Fisika UT
In depth study of test variables
Immersion Techniques
Prinsip DGS / Metode DAC
Teknik Uji & Keterbatasan
Peralatan dan Asesoris
Echo dinamika untuk Reflector Evaluasi
Codes, standar dan Prosedur
Acceptance Standards
Kalibrasi & Sistem Uji
Aplikasi Khusus
Evaluation of Test Equipment
Proses Manufaktur dan diskontinuitas
PESERTA TRAINING NDT ULTRASONIC TESTING (UT) LEVEL 2
Untuk mengikuti training ini, calon peserta harus sudah terlebih dahulu mengikuti training UT Level 1 dan memiliki sertifikat pelatihan UT Level 1, pendidikan minimal D3 Teknik atau setara.
METODE
Presentasi
Diskusi Interactive
Workshop
Sharing
Studi Kasus
INSTRUKTUR
Ir. Teguh Pudji Purwanto, MT
Sigit Budi Hartono, ST., MT.
Batch 8: 27 – 29 Agustus 2019
Batch 9: 10 – 12 September 2019
Batch 10: 15 – 17 Oktober 2019
Batch 11: 26 – 28 November 2019
Batch 12: 17 – 19 Desember 2019
08.00 – 16.00 WIB
Yogyakarta: Cavinton Hotel Yogyakarta ; Neo Malioboro Hotel Yogyakarta Ibis Styles Hotel Yogyakarta
Surabaya: Hotel Santika Pandegiling Surabaya
Malang: Best Western OJ Hotel Malang ; Harris Hotel & Convention Malang
Jakarta: Dreamtel Jakarta Hotel ; Ibis Jakarta Tamarin Hotel
Bandung: Golden Flower Hotel Bandung ; Serela Merdeka Hotel Bandung
Bali: Ibis Bali Kuta Hotel ; Harris Kuta Raya Hotel Bali
In House Training : Depend on request
BIAYA TRAINING NDT ULTRASONIC TESTING (UT) LEVEL 2
6.000.000 IDR/ participant (for public training in Yogyakarta)  -> minimum quota of 2 participants
7.000.000 IDR/ participant (for public training in Bandung, Jakarta, Surabaya)  ->  minimum quota of 3 participants
8.000.000 IDR/ participant (for public training in Bali)  -> minimum quota of 3 participants
FASILITAS TRAINING NDT ULTRASONIC TESTING (UT) LEVEL 2
INCLUDE:
Meeting Room at Hotel, Coffe Break, Lunch
Module (hard & soft copy/flashdish)
Training Kit, Souvenir, Sertifikat
Airport pick up services
Transportation during training
EXCLUDE:
Penginapan peserta training
Pajak (Ppn 10 %)
NDT TRAINING: Ultrasonic Testing (UT) LEVEL 2