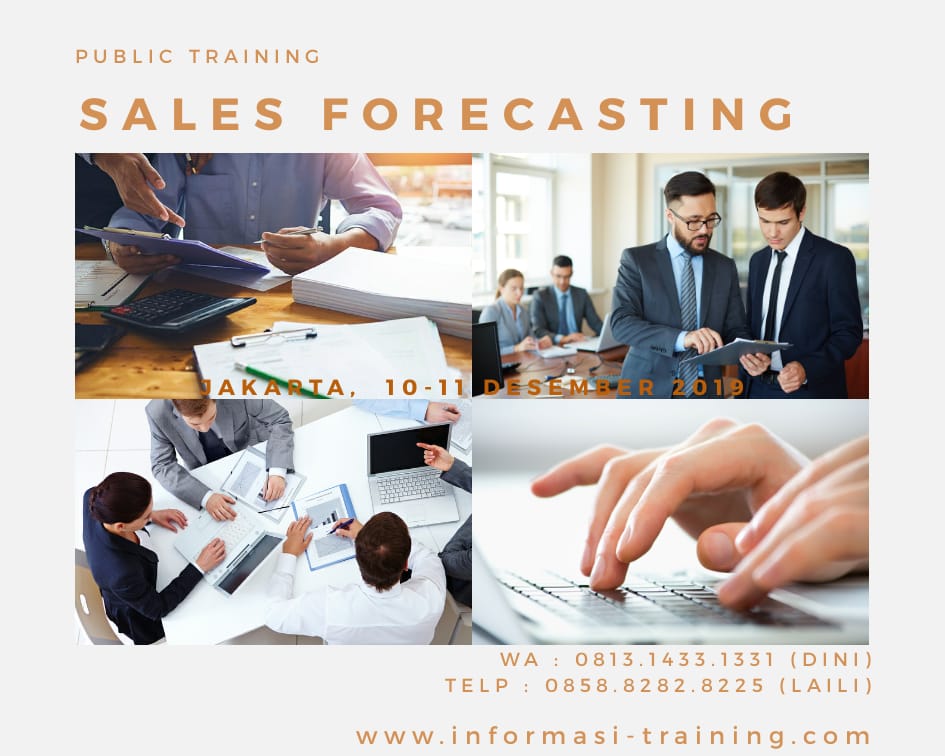 ACARA
12 – 13 November 2019 | Rp 4.500.000,- di Dreamtel/ Ibis Hotel, Jakarta
10 – 11 Desember 2019 | Rp 4.500.000,- di Dreamtel/ Ibis Hotel, Jakarta
LATAR BELAKANG TRAINING SALES FORECASTING
Pelatihan teknik Sales Forecasting  ini difokuskan kepada bagaimana menyusun prakiraan penjualan sehingga sangat cocok untuk manajer dan staf penjualan yang bergerak dalam bidang penjualan , keuangan dan perencanaan. Pelatihan ini dimaksudkan agar peserta mempunyai pemahaman dan ketrampilan mengenai Sales Forecasting; memahami langkah-langkah teknis, konsep, tips dan trik, dan penerapan yang dituntut dalam bidang perencanaan penjualan; memperluas pengetahuan mengenai lingkungan penjualan dan pemasaran; dan dilengkapi dengan teknik dan penerapan sales forcasting dan marketing.
TUJUAN TRAINING SALES FORECASTING
Setelah mengikuti pelatihan ini, peserta diharapkan dapat
Memahami dan memerapkan berbagai teknik forecasting;
Memahami dan menerapkan berbagai pertimbangan yang penting dalam melakukan forecasting;
Memahami dan menerapkan berbagai teknik sales forcasting
Pemahaman melakukan customer analisis;
Penerapan market segmentation;
Penerapan sales forecasting dan planning;
Penerapan marketing strategy.  
MATERI TRAINING SALES FORECASTING
Introduction to forecasting techniques and its important considerations
Qualitative forecasting techniques and its utilization
Quantitative forecasting techniques and its utilization
Knowing where you are: business and marketing environment
Basic tools: market research, consumer survey, and demand analysis
Knowing your target: market knowledge, segmenting, and swot analysis
Creating your road map: sales forecasting and your marketing strategy
Case: "sales forecast vs demand forecast: constraints or barrier"
TARGET PESERTA:
Managers, Supervisors dan Staff Sales dan Marketing
PEMBICARA
Trainer Team
Jadwal Training 
Tanggal 15-16 Oktober 2019
Tanggal 12-13 November 2019
Tanggal 10-11 Desember 2019
Investasi
Rp 4.500.000,- (Empat Juta Lima Ratus Ribu Rupiah ) belum termasuk pajak terkait
Investasi sudah termasuk:
Sertifikat Keikutsertaan
Coffe Break 2X dan Lunch
Souvenirs dan Seminar Kits
Seminar Bag
Modul
Discount 10% apabila pendaftaran group minimal 5 orang dari perusahaan yang sama dalam 1 (satu) pelatihan.
Pelaksanaan training akan diselenggarakan apabila telah mencapai quota peserta 4-5 orang.
Konfirmasi pelaksanaan training akan dilakukan 3 (tiga hari sebelum tanggal pelaksanaan).
SALES FORECASTING