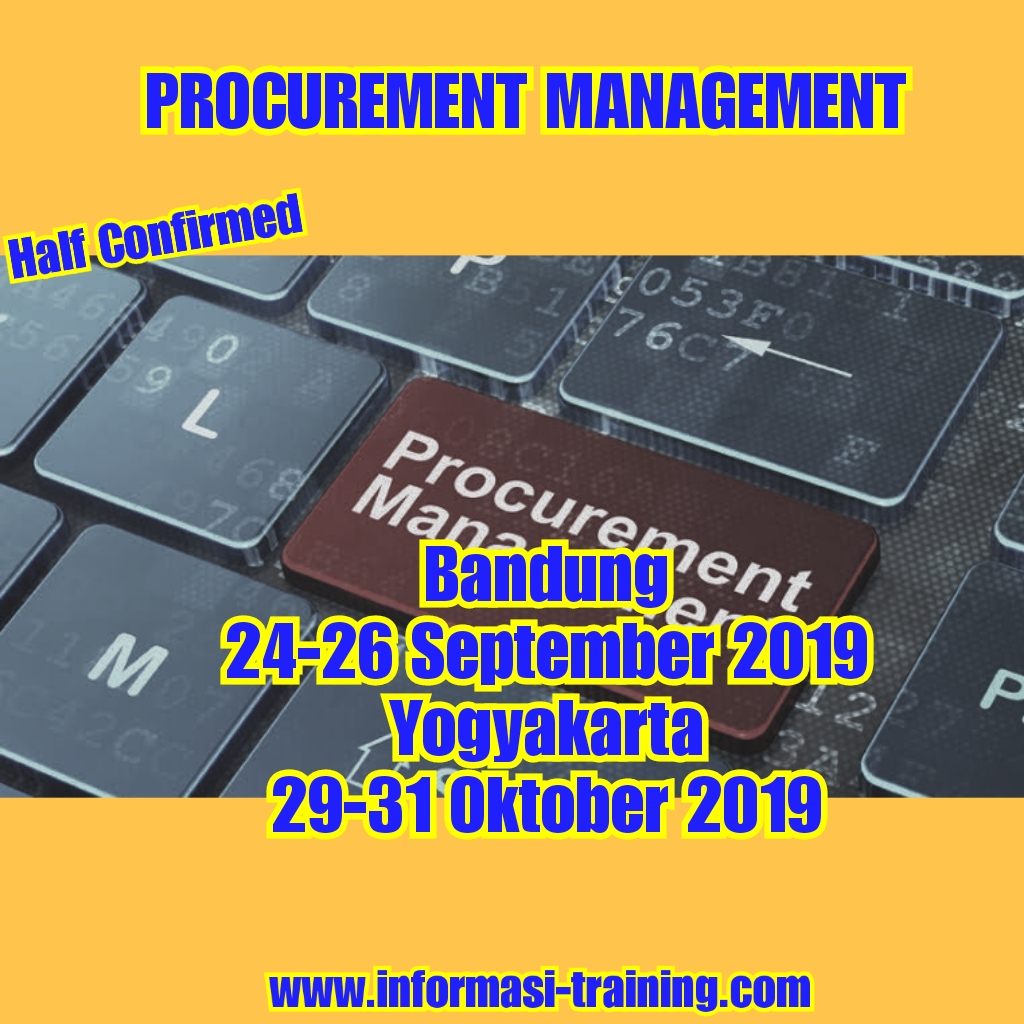 ACARA
29 – 31 Oktober 2019 | Rp 5.900.000,- di Yogyakarta – HALF CONFIRMED
26 – 28 November 2019 | Rp 5.900.000,- di Yogyakarta
10 – 12 Desember 2019 | Rp 5.900.000,- di Yogyakarta
DESKRIPSI TRAINING PROCUREMENT MANAGEMENT
Procurement (pengadaan) adalah mendapatkan barang, jasa atau pekerjaan dari sumber eksternal/luar. Sedangkan Procurement Management merupakan proses pengadaan kebutuhan material, produk dan jasa pada institusi yang didukung oleh sistem dan prosedur yang terintegrasi, terstruktur, akuntabel dan transparan. Proses Procurement Management meliputi pengelolaan pemesanan, penerimaan, review dan persetujuan barang-barang dari pemasok. Hal ini juga menentukan bagaimana hubungan pemasok akan dicapai untuk memastikan tingkat layanan yang diterima. Dalam prakteknya seringkali timbul permasalahan, mulai dari perencanaan yang tidak terintegrasi, perubahan harga dan ketersediaan pasokan, seleksi supplier/vendor yang mengundang potensi fraud, miskomunikasi, hingga supplier/vendor yang wan prestasi terhadap order dan kontrak.
Dalam pelatihan ini akan dibahas dari perspektif pembeli dalam hubungan  pembeli-penjual  yang ada di berbagai tingkatan kerja tergantung pada area penerapannya. Peserta akan diperkenalkan konsep dan teori yang akan membantu mengidentifikasi dan menganalisis berbagai aspek Procurement Management. Pembahasan berkaitan dengan Procurement Management sebagai komponen penting dari Supply Chain Management secara keseluruhan, yang mencakup strategi pengadaan, proses dan prosedur pengadaan, spesifikasi pembelian, evaluasi pemasok dan seleksi, negosiasi dan administrasi kontrak, e-procurement dan outsourcing. Pelatihan ini juga berfokus pada hubungan timbal balik pengadaan dengan seluruh bidang fungsional organisasi. Materi pelatihan akan disajikan dalam bentuk aplikatif dan disampaikan oleh instruktur professional yang berpengalaman di bidangnya, yang diharapkan akan meningkatkan kemampuan peserta untuk unggul dalam Procurement Management
TUJUAN TRAINING PROCUREMENT MANAGEMENT
Setelah mengikuti pelatihan ini, diharapkan peserta dapat:
Mengetahui konsep dan best practice dalam bidang

Procurement Management

Memahami regulasi, administrasi, & prosedur Procurement/Purchasing
Memahami esensial konsep dan best practices tipe Procurement Management
Mengetahui proses procurement dan mendapatkan skill bagaimana menggunakan Standard Bidding Document (SBD)
Memahami metode sourcing, teknik analisa penawaran, & strategi negosiasi
Memahami implementasi sistem e-Procurement
Memahami bagaimana melakukan pemilihan supplier/vendor dan proses evaluasi kinerja supplier/vendor
MATERI TRAINING PROCUREMENT MANAGEMENT
Understanding Definition: Procurement vs Purchasing
Peran dan Fungsi 

Procurement Management

Roles and Responsibilities
Ekspektasi Manajemen dan Perusahaan
World Class Purchasing dan Material Management
Implikasi Strategi Purchasing dan Purchasing Strategi
Purchasing Cycle: Down Stream dan Up Stream
Tantangan dan hambatan yang dihadapi
Scopes of Buyer/Purchaser Responsibilities
Repeat Order & Project Order
Global Sourcing
Procurement Process
The Bidding Process
Standard Bidding Documents
Bidding Evaluation Methods
Procurement Plan & Order Management
Order Decision Strategy
Generic purchasing strategies
Specific requirements identification
Supply Planning
Supplier Selection, Evaluation dan Improvement Performance
Purchasing Performance Measurement
Procurement Contract
Negotiation Technique and Strategy
Vulnerability Management
Procurement Audits
Procurement Ethics and Procurement Fraud
Current Trends and Developments in Procurement
Aplikasi Supply Chain dan Just In Time dalam Purchasing dan

Procurement Management
PESERTA TRAINING PROCUREMENT MANAGEMENT
Pelatihan ini disarankan untuk diikuti oleh: Logistics /supply Chain Manager, Purchasing manager, Warehousing manager, Distribution Manager, Logistics Planner, Production manager, Production Planner, Marketing Manager dan semua posisi yang erat kaitannya dengan Procurement Management.
METODE TRAINING PROCUREMENT MANAGEMENT
Presentasi
Diskusi Interaktif
Studi Kasus
Simulasi
Evaluasi
INSTRUKTUR TRAINING PROCUREMENT MANAGEMENTV
Arya Wirabhuana, ST., M.Sc., CMPM.
Achmad Fadjar., S.E., M.Si., Ak., CA.
Nara sumber adalah pakar Industrial Management yang sering memberikan materi di berbagai training, seminar, workshop, terutama yang berkaitan dengan topik Procurement Management.
Batch 10 : 29 – 31 Oktober 2019
Batch 11 : 26 – 28 November 2019
Batch 12 : 10 – 12 Desember 2019
08.00 – 16.00 WIB
Yogyakarta: Cavinton Hotel Yogyakarta ; Neo Malioboro Hotel Yogyakarta Ibis Styles Hotel Yogyakarta
Surabaya: Hotel Santika Pandegiling Surabaya
Malang: Best Western OJ Hotel Malang ; Harris Hotel & Convention Malang
Jakarta: Dreamtel Jakarta Hotel ; Ibis Jakarta Tamarin Hotel
Bandung: Golden Flower Hotel Bandung ; Serela Merdeka Hotel Bandung
Bali: Ibis Bali Kuta Hotel ; Harris Kuta Raya Hotel Bali
In House Training : Depend on request
BIAYA
Yogyakarta:
Publish Rate          : Rp 5.900.000,- / participant
Special Rate         : Rp 5.500.000,- / participant (min 4 participants from the same company)
Bandung / Jakarta / Surabaya / Malang:
Publish Rate          : Rp 6.900.000,- / participant
Bali:
Publish Rate          : Rp 7.900.000,- / participant
FASILITAS TRAINING
INCLUDE:
Meeting Room at Hotel
Coffe Break, Lunch
Module (hard & soft copy/flashdish)
Training Kit, Souvenir, Sertifikat
Airport pick up services
Transportation during training
EXCLUDE:
Penginapan peserta training
Pajak (Ppn 10 %)
PROCUREMENT MANAGEMENT