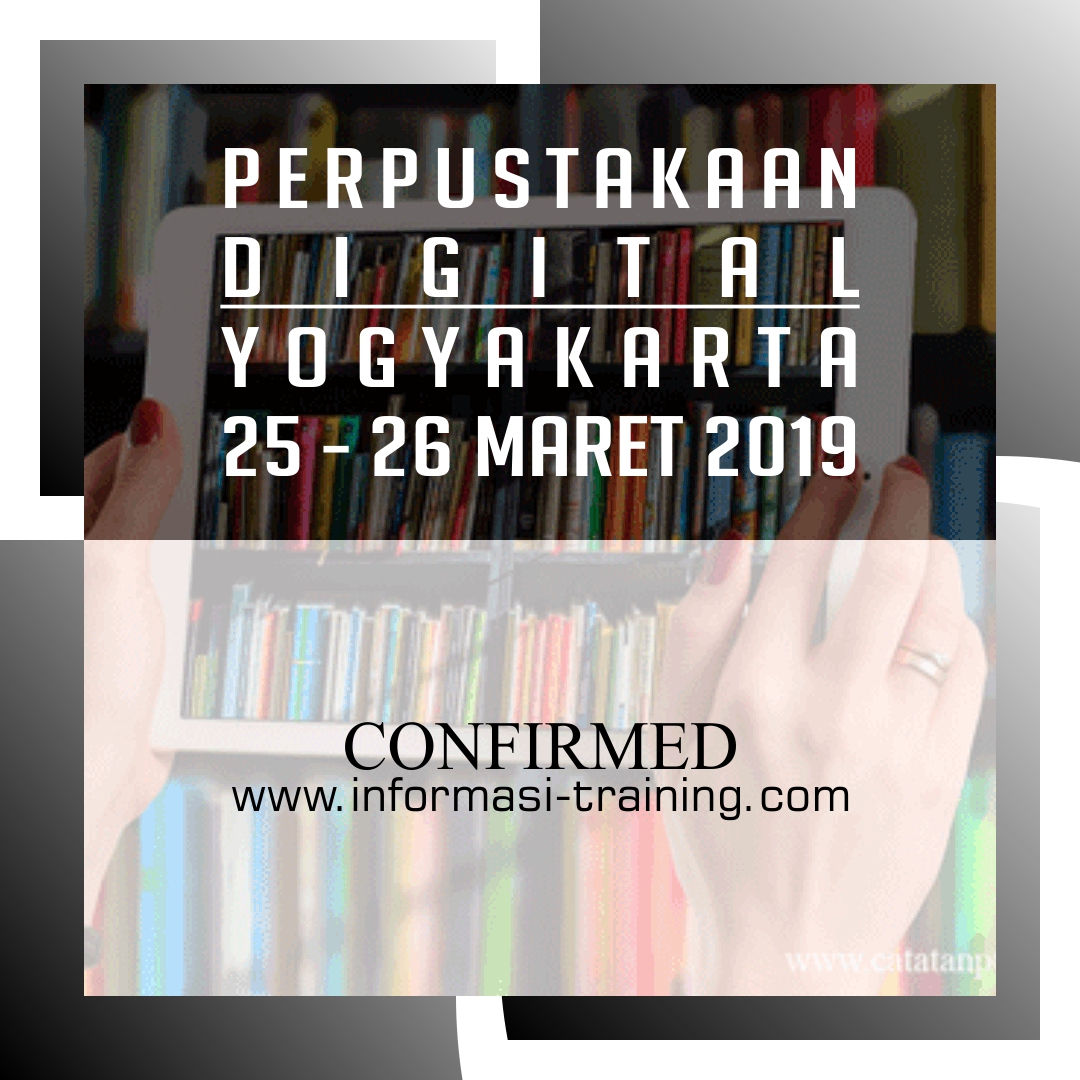 Acara
23 – 24 September 2019 | Rp 4.500.000/ peserta di Yogyakarta
07 – 08 Oktober 2019 | Rp 4.500.000/ peserta di Yogyakarta
25 – 26 Nopember 2019 | Rp 4.500.000/ peserta di Yogyakarta
Jadwal Training 2019 Selanjutnya …
PENDAHULUAN
Perpustakaan adalah suatu organisme yang hidup dan tumbuh mengikuti perkembangan peradaban masyarakatnya. Perpustakaan berkembang mengikuti perubahan-perubahan yang terjadi dalam masyarakatnya. Teknologi informasi dan komunikasi atau information and communication technology (ICT) telah membawa perubahan dalam berbagai sector, termasuk dunia perpustakaan.
Perpustakaan digital diperlukan untuk mendukung pelaksanaan pendidikan dan pengajaran, penelitian, serta pengabdian dan pelayanan kepada masyarakat. Perubahan paradigm ini menempatkan perpustakaan sebagai sumber daya informasi yang sangat penting karena dimungkinkan akan memberikan kemudahan pada pemustaka dalam aksesibilitas informasi di perpustakaan.
Perpustakaan ideal yang mampu memenuhi keinginan pengguna adalah perpustakaan yang menyediakan informasi yang memadai atau menyediakan akses kepada berbagai sumber informasi, dapat diakses kapan saja, dimana saja dan dipandu oleh professional pustakawan. Hal ini sebagai akibat dari perkembangan aplikasi TI dalam kehidupan masyarakat luas.
Pelatihan Perpustakaan Digital ini membahas dua tema, yakni manajemen perpustakaan digital dan aplikasi perpustakaan digital.
TUJUAN TRAINING PERPUSTAKAAN DIGITAL
Pelatihan Perpustakaan Digital ini diselenggarakan dengan tujuan sebagai berikut :
Memberikan pengetahuan tentang pentingnya perpustakaan digital.
Memberikan ketrampilan dalam mengelola koleksi digital.
Memberikan bekal pengetahuan bagaimana mendapatkan sumber informasi digital, dan
Memberikan ketrampilan bagaimana menyajikan informasi kepada pemakai.
MATERI TRAINING PERPUSTAKAAN DIGITAL
Perencanaan Perpustakaan Digital
Materi ini dimaksudkan untuk memberikan bekal kepada peserta mengenai apa saja yang harus disiapkan dalam Perpustakaan Digital. Dalam materi ini dibahas antara lain tentang apa yang dimaksud dengan manajemen Perpustakaan Digital, mengorganisasi SDM, informasi, dan sarana perpustakaan Digital.
Manajemen Sumber Informasi Digital
Memberikan pengetahuan kepada peserta tentang macam sumber informasi ditinjau dari segi media, format, dan subjeknya. Peserta dikenalkan dengan jenis informasi didasarkan pada bentuk medianya, yaitu media cetak, media elektronik, dan media online. Peserta juga dikenalkan dengan jenis sumber informasi berdasarkan atas subjeknya.
Pelayanan Informasi Digital
      Peserta diharapkan mampu menjelaskan dan mengaplikasikan fungsi manajemen dalam layanan perpustakaan digital. Materi ini meliputi pengertian layanan, aspek layanan dalam penyelenggaraan perpustakaan digital, hakekat dan asas layanan, sistem layanan, jasa layanan, program kerja layanan, promosi layanan perpustakaan dan kerjasama perpustakaan digital (resource sharing).
Aplikasi Software untuk Perpustakaan Digital
Peserta pelatihan mengetahui aplikasi software yang dapat digunakan oleh perpustakaan digital, memahami konsep dasar automasi perpustakaan, perkembangan konsep dan software otomasi ke depan serta mampu menggunakan software automasi perpustakaan digital.
Digitalisasi Dokumen
      Peserta diharapkan mampu mengelola dan mengolah informasi sesuai dengan perkembangan perpustakaan saat ini. Peserta diberi ketrampilan untuk mendapatkan sumber informasi, pengolahan informasi serta penyediaan informasi. Proses digitasi dan scanning documen dipelajari dalam sesi ini.
Penelusuran Informasi Digital
Peserta mendapatkan pengetahuan penelusuran informasi digital, tip dan trik menggunakan   search engines, sampai tahap evaluasi hasil penelusuran.
Penelusuran Digital : Search Engines
Pengenalan Search Engines [Piranti Pencari] dan Metasearch
Penelusuran Informasi menggunakan Search Engines [Google, Lycos, Altavista, dsb]
Tip dan Trik Pesertaan Search Engines
Penelusuran Digital : Database Online
Pengenalan Database Online
Penelusuran Informasi menggunakan Database Online [Ebsco, Proquest, dsb]
Tips dan Trik Pesertaan Database Online
SIAPA SEBAIKNYA MENGIKUTI TRAINING PERPUSTAKAAN DIGITAL?
Pelatihan Perpustakaan Digital ditujukan kepada :
Staf Pusat Informasi
Staf Pusat Dokumentasi
Staf Perpustakaan
Mahasiswa
Peminat dan Pemerhati Informasi, Dokumentasi dan Perpustakaan
METODE TRAINING PERPUSTAKAAN DIGITAL:
Materi pelatihan diberikan dengan model ceramah, diskusi dan praktikum.
INSTRUKTUR
Lilik Kurniawati Uswah, S.E., M.Si.and Team
Lilik Kurniawati Uswah, S.E., M.Si.adalah Magister Informasi dan Perpustakaan, Sekolah Pasca Sarjana Universitas Gadjah Mada (UGM).Aktif sebagai Pembicara/Ketua Panitia/Moderator/Peserta pada berbagai Workshop/Seminar baik didalam negeri maupun internasional, antara lain :
Seminar Internal "Lessons Learned dari Negara Tetangga", Forum Pustakawan UGM
Sosialisasi Program Kerja Dewan Perpustakaan Provinsi DIY, BPAD Provinsi DIY
Pelatihan Perpustakaan dalam rangka Pengembangan SMK Bertaraf Internasional se-Provinsi DIYLibrary
Information Industry and Physical Space 21st Library, National University of Singapore.
Workshop Kepustakawanan dan Sistem Operasional Perpustakaan Umum, Khusus dan Perguruan Tinggi, Malaysia-Vietnam
Enhancing Information Discovery through Mobile Technologies, National University of Singapore, dll
Banyak menghasilkan karya tulis bagi publikasi nasional dan internasional serta memberikan berbagai pelatihan Perpustakaan Bidang Manajemen, Perpustakaan Bidang Audio Visual, Digitalisasi Dokumen, Pengelolaan dan Sistem Informasi, Perpustakaan Bidang Layanan Berbasis TI, dan lain-lain.
Pengalaman sebagai Pengelola Perpustakaan di Rene Descartes International Foundation SAINTE MONIQUE Ecole Superieure de Commerce, Yogyakarta dan sebagai Pustakawan Pertama di Perpustakaan UGM bagian Sekretariat, kini dipercaya sebagai Penanggung Jawab Layanan IDIS Corner – Bank Dunia sejak tahun 2008.
PERPUSTAKAAN DIGITAL TRAINING VENUE 
Yogyakarta (Ibis Styles Hotel/ Ibis Malioboro Hotel/ Jambuluwuk Hotel/ Cavinton Hotel/ Grand Zuri Hotel, dll)
PERPUSTAKAAN DIGITAL TRAINING DURATION
2days
23 Sep 2019-24 Sep 2019
07 Okt 2019-08 Okt 2019
25 Nop 2019-26 Nop 2019
26 Des 2019-27 Des 2019
INVESTATION PRICE/PERSON     
Rp. 4.500.000/peserta (bayar penuh)  atau
Rp. 4.250.000/peserta (early bird, yang membayar 1 minggu sebelum training)  atau
Rp. 3.950.000/peserta (peserta bergroup yang terdiri dari 3 peserta atau lebih dari 1 perusahaan yang sama)
FACILITIES FOR PARTICIPANTS
Training Module
Flash Disk contains training material
Certificate
Stationeries: NoteBook and Ballpoint
T-Shirt
Backpack
Training Photo
Training room with Full AC facilities and multimedia
Lunch and twice coffeebreak every day of training
Qualified Instructor
Transportation for participants from hotel of participants to/from hotel of training – VV (if minimal participants is 4 persons from the same company)
PERPUSTAKAAN DIGITAL