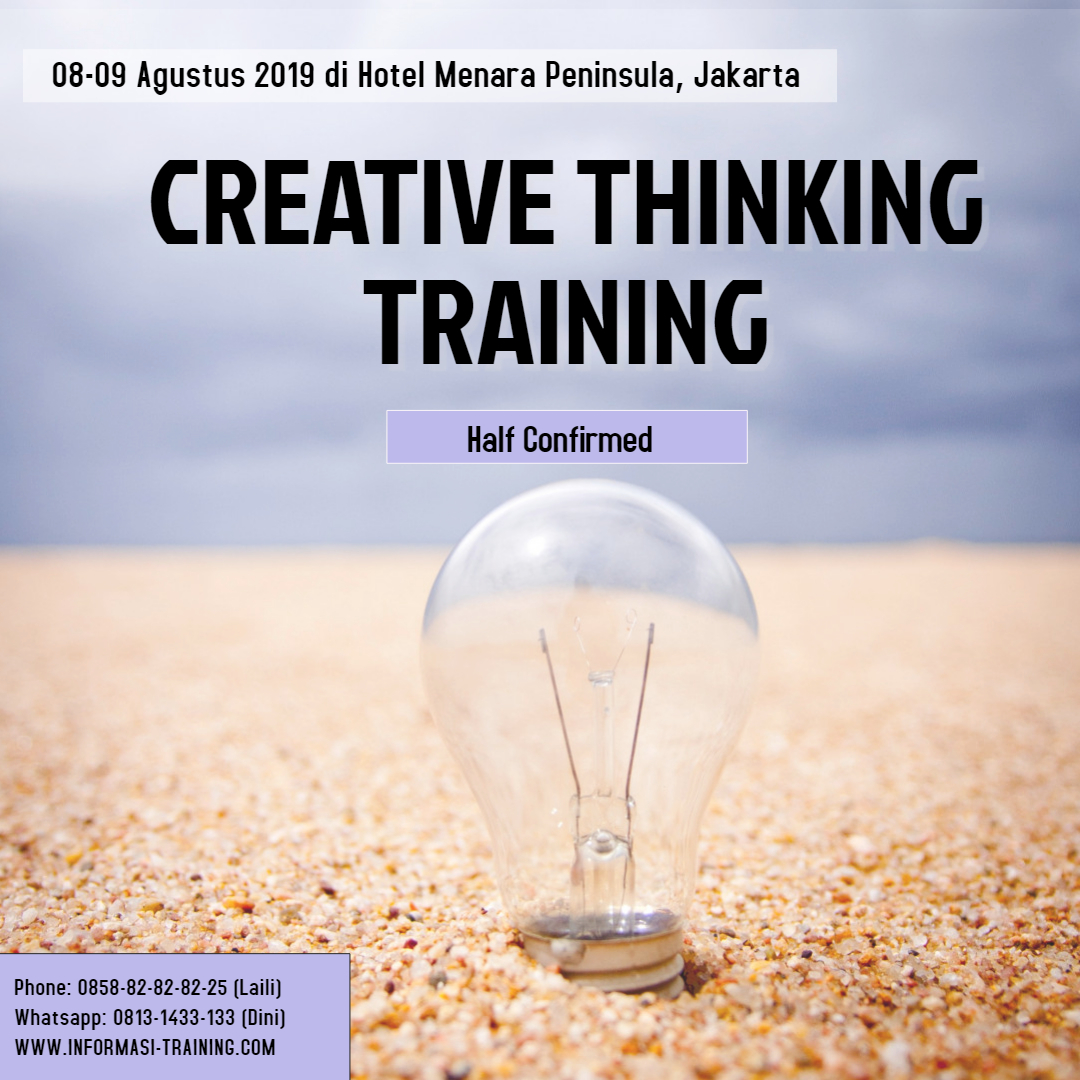 Acara
16 – 17 Januari 2020 | Rp. 3.750.000 di Hotel Menara Peninsula, Jakarta
06 – 07 Februari 2020 | Rp. 3.750.000 di Hotel Menara Peninsula, Jakarta
10 – 11 Maret 2020 | Rp. 3.750.000 di Hotel Menara Peninsula, Jakarta
Jadwal Training 2020 Selanjutnya …
CREATIVE THINKING TRAINING OVERVIEW
Setiap karyawan mulai dari level bawah sampai atas, diharapkan punya keterampilan untuk Berpikir Kreatif dan Inovatif (Creative & Innovative Thinking), mempunyai ide-ide cemerlang dan pemikiran inovatif, dan juga dapat menyelesaikan masalah dengan kreatif.  Hal tersebut sangat berfungsi untuk pengembangan pribadi, pengembangan departemen bahkan perusahaan, organisasi atau instansi. Creative Thinking dapat menjadi alat untuk mengambil keputusan secara taktis, cepat, tepat dan efektif. Bagi perusahaan, Creative Thinking juga mampu menjadi kekuatan di tengah persaingan bisnis yang begitu kerasnya dan setiap perusahaan dituntut berfikir lebih lagi menghasilkan ide kreatif untuk bersaing dengan competitor. Creative Thinking juga berguna untuk memaksimalkan pelayanan, menggaet pelanggan, memperbaiki image, bahkan sampai meningkatkan profit. Creative Thinking juga berguna bagi Instansi ataupun organisasi, untuk mengefektifkan kegiatan, proses kerja, menciptakan hal baru dalam pernaikan kinerja. Creative Thinking juga sangat diperlukan bagi para pengusaha, guru, pegawai, pekerja, dan lain-lain yang sangat luas cakupannya. Dalam beberapa perusahaan dan instansi, diperlombakan beberapa ide kreatif bagaimana cara untuk mengurangi pengeluaran (Cost), menciptakan layanan baru, dan cara untuk meningkatkan kemajuan perusahaan. Banyak perusahaan melesat maju, karena bayaknya ide-ide kreatif yang dihasilkan oleh karyawan, dan ide tersebut diimplementasikan menjadi program/kebijakan perusahaan.
CREATIVE THINKING TRAINING BENEFIT
Melalui training ini, peserta nantinya diharapkan:
Membentuk pola pikir karyawan untuk selalu berpikir kreatif
Melatih diri menciptakan ide dan gagasan efektif
Melatih diri untuk menjadi orang yang kreatif dan orientasi solusi
Memahami manfaat dari creative thinking secara utuh
Meningkatkan penjualan melalui layanan yang kreatif
Meningkatkan motivasi untuk memberikan yang terbaik dengan ide dan gagasan baru, bukan dengan hal-hal yang biasa saja dan selalu sama dari dahulu.
Memberikan pemahaman pentingnya perubahan yang positif dan efektif
CREATIVE THINKING TRAINING OUTLINE
Mengenali kekuatan otak,  potensi diri dan breaking your limits
Mengenal cara kerja pikiran (otak) & hubungannya dengan tingkat kreativitas
Mengubah mindset, mengubah keadaaan
Melihat tantangan sebagai peluang
Mengenal kreativitas & manfaatnya
Memahami prinsip-prinsip kreativitas dan inovatif
Ciri-ciri orang/perusahaan/organisasi kreatif
Hubungan kreatifitas dan kesuksesan pribadi, organisasi dan perusahaan
Resiko Pribadi, perusahaan, lembaga yang tidak kreatif
Proses menghasilkan gagasan kreatif dan inovatif
Menciptakan ide-ide segar dan orisinal.
Merangsang berpikir kreatif dan inovatif, ide baru dengan lebih cepat
Mengaktifkan otak kanan
Thinking out of the box
Melihat sesuatu dengan sudut pandang baru
Membuat ide sebanyak mungkin dalam waktu singkat dan menyeleksi ide yang terbaik
Cara memanfaatkan kekuatan imaginasi/visualisasi
Mengimplementasikan ide kreatif dengan efektif
Ide -ide kreatif untuk meningkatkan pelayanan dan penjualan
Ide kreatif untuk menciptakan usaha baru, produk berkualitas
Memecahkan masalah dengan kreatif
Simulasi Membangun Kreatifitas
CREATIVE THINKING TRAINING TRAINER:
WELMAN PURBA, SE, CNLP, CHt, CTFT
Beliau adalah trainer yang telah memberikan inspirasi bagi banyak orang dan menjadi coach handal untuk khususnya bidang Creative Thinking, Service Excellent, Selling Skill, dan Personal Development. Lulusan dari salah satu universitas di Bandung. Dengan belajar dari pengalaman bekerja selama 18 tahun, training yang diberikan adalah hasil pembelajaran dan evaluasi selama bekerja, sehingga  banyak mengangkat kasus-kasus dan contoh-contoh nyata dalam peningkatan SDM dan perusahaan.
Sebelumnya beliau pernah bekerja dibeberapa perusahaan antara lain:
Marketing ING Insurance
Sales – Promedia
Marketing Hotel Hilton Indonesia ( sekarang Hotel Sultan)
Marketing Hotel Aston Jakarta
Asisten Manager World Trade Center Jakarta (associate with World Trade Center New York)
Manager Assistant Red Piramid Consultant
Marketing Manager PT Konsultan Utama
Managing Director – Asia Integrity
Trainer – Synergis Training & Consultant Group
Founder Creative Thinkers Indonesia
Saat ini beliau sedang menyelesaikan 2 buku dengan judul:
CREATIVE & INNOVATIVE THINKING
THE POWER OF SERVICE EXCELLENT
Beberapa lembaga/perusahaan yang telah diberikan training:
Kementrian Dalam Negeri, Kementrian Perindustrian, Kementrian Kesehatan, Kementrian Perdagangan, Kementrian Agama, Direktorat Jenderal Keuangan, Kanwil Pajak Jawa Barat, Bank Indonesia, Bank Mega, Pemprov DKI Jakarta, Pemda Kalimantan Timur, Badan Pengembangan Pariwisata Bali, PT. Pertamina, PT. Astra Honda Motor, PT. Toyota Astra Motor, Indofood – Bogasari, Shell Indonesia, Jakarta International Container Terminal (JICT), PT Sayap Mas Utama (Wings), PT. Hino Sales Indonesia,  Trakindo, Tbk, Kimia Farma, Semen Padang, Charoen Pocpahn Indonesia – Central Proteinaprima, NGK Busi Indonesia, BPJS, Semen Padang, RSUD Slawi, RSUD Bangko Jambi, RS Borromeus, Hypermart, Basarnas, Aetra Air Jakarta, Incasi Raya Padang, Adira Finance, Alam Hijau Teduh, PT. Aker Solutions, Tigaraksa Satria, Semen Tonasa, Sinclair Knight Merz, Asuransi Jiwa Inhealth Indonesia, Bank BRI Syariah, Temas Line, East Jakarta Industrial Park, Asuransi Central Asia, Semen Padang, Hotel Sari Pan Pacific, Mowilex, Suzuki Mobil, Hypermart, Matahari, RS Mitra Keluarga, Smartfren, Trakindo Utama, PT 4life Trading Indonesia, Bank Kesejahteraan Ekonomi, Institut Teknologi Surabaya, PT Assab Steels Indonesia dan masih banyak lagi..
Dalam membawakan training, menggunakan pendekatan dengan berbagai metode seperti;
Ceramah, diskusi, studi kasus, roleplay/simulasi, video/film, games dll.
Sehingga training dibawakan dengan menarik.
Beberapa topik pelatihan yang menjadi kompetensi beliau:
Creative & Innovative Thinking
Service Excellent
Character Building
Personality Development- Smart Character/Attitude
Leadership
Great Supervisor
Achievement Motivation
Team Building
Selling Skill
16 – 17 Januari 2020
06 – 07 Februari 2020
10 – 11 Maret 2020
07 – 08 April 2020
11 – 12 Mei 2020
09 – 10 Juni 2020
07 – 08 Juli 2020
10 – 11 Agustus 2020
10 – 11 September 2020
08 – 09 Oktober 2020
05 – 06 November 2020
03 – 04 Desember 2020
Hotel : Menara Peninsula, Jakarta, Hotel Puri Denpasar, Hotel Harris Tebet, Hotel Fave Gatot Subroto, Hotel Ibis.
Investasi :
Rp. 3.750.000,-/peserta

Including : Sertificate,Training Modules, Workshop kit, Lunch, Snacks, Foto 10R
CREATIVE THINKING