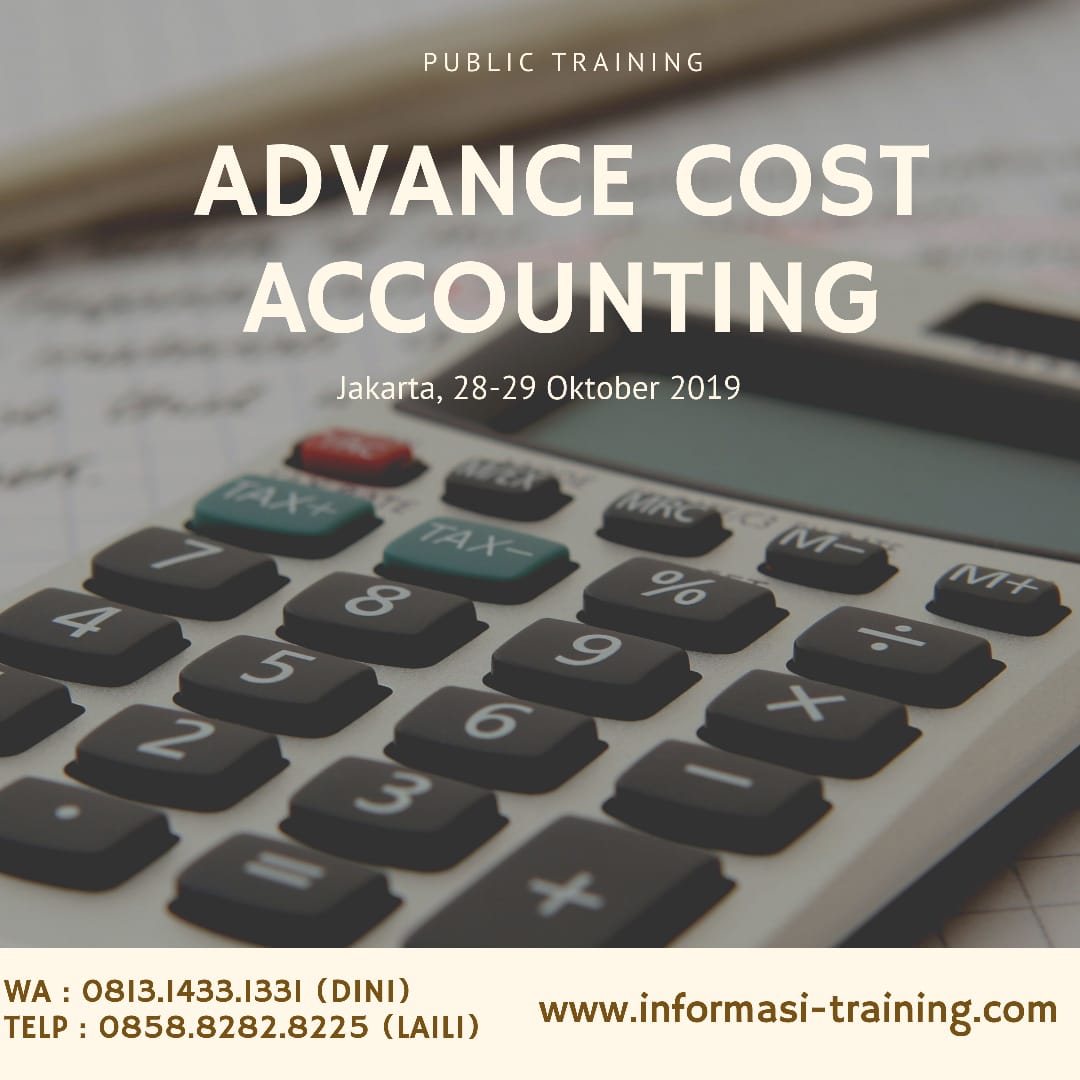 ACARA
28 – 29 Oktober 2019 | Rp 4.500.000,- di Dreamtel/ Ibis Hotel, Jakarta
28 – 29 November 2019 | Rp 4.500.000,- di Dreamtel/ Ibis Hotel, Jakarta
19 – 20 Desember 2019 | Rp 4.500.000,- di Dreamtel/ Ibis Hotel, Jakarta
Gambaran Umum Cost Accounting

Cost accounting bukan hanya sekedar pengalokasian overhead saja. Cost accounting merupakan alat untuk menentukan true product cost. Dengan mengintegrasikan konsep Activity-Based Costing dan metode advanced traditional costing, akan memungkinkan para accountant berperan sebagai business partner dalam perusahaan.
Cost Accounting Training Outline
Hari 1 :
The Business Environment

Modern Strategic, Tactical, dan Operational Aspects
Peran cost accounting
Cost information sebagai salah satu faktor dalam pengambilan keputusan
Menilai efektifitas cost reporting system dengan pendekatan Product/Decision Cycle

Evaluating Companys Costing Techniques
Activity-Based Costing as an Effective Cost Accounting Tool
Developing Standards as a Tool for Valuation and Strategic Decision Support
Hari 2 :
Variance Analysis as a Process Improvement Tool: Analyzing the True Causes of Product Cost Variances
Effective Determination of Joint- and By-Product Costs
Assigning Service Department Costs to Determine Total Product Cost
Developing the Target Cost Model
Transfer Pricing and Product Cost Determination
Cash Flow and Cost Accounting
Capacity Analysis: Understanding the True Cost of Incremental Manufacturing
Customer Profitability: The Key to Profit Enhancement
Konsep dasar Customer Profitability Analysis
Teknik membuat Customer Profitability Analysis Model
Informasi yang dibutuhkan pada Customer Profitability Analysis Model
Fasilitator / Pembicara Cost Accounting

Team Trainer
JADWAL PELATIHAN
Tanggal 28-29 Oktober 2019
Tanggal 28-29 November 2019
Tanggal 19-20 Desember 2019
INVESTASI Cost Accounting

Hotel Ibis / Dreamtel Jakarta Rp 4.500.000,- (Empat Juta Lima Ratus  Ribu Rupiah) belum termasuk pajak terkait
Investasi sudah termasuk:
Sertifikat keikutsertaan.
Coffe Break 2X dan Lunch.
Souvenirs dan Seminar Kits.
Seminar Bag.
Modul
Discount 10% apabila pendaftaran group minimal 5 orang dari perusahaan yang sama (untuk satu pelatihan dan waktu yang sama).
Pelaksanaan training akan diselenggarakan apabila telah mencapai quota peserta 4-5 orang.
Konfirmasi pelaksanaan training akan dilakukan 3 (tiga hari sebelum tanggal pelaksanaan).
Advanced Cost Accounting