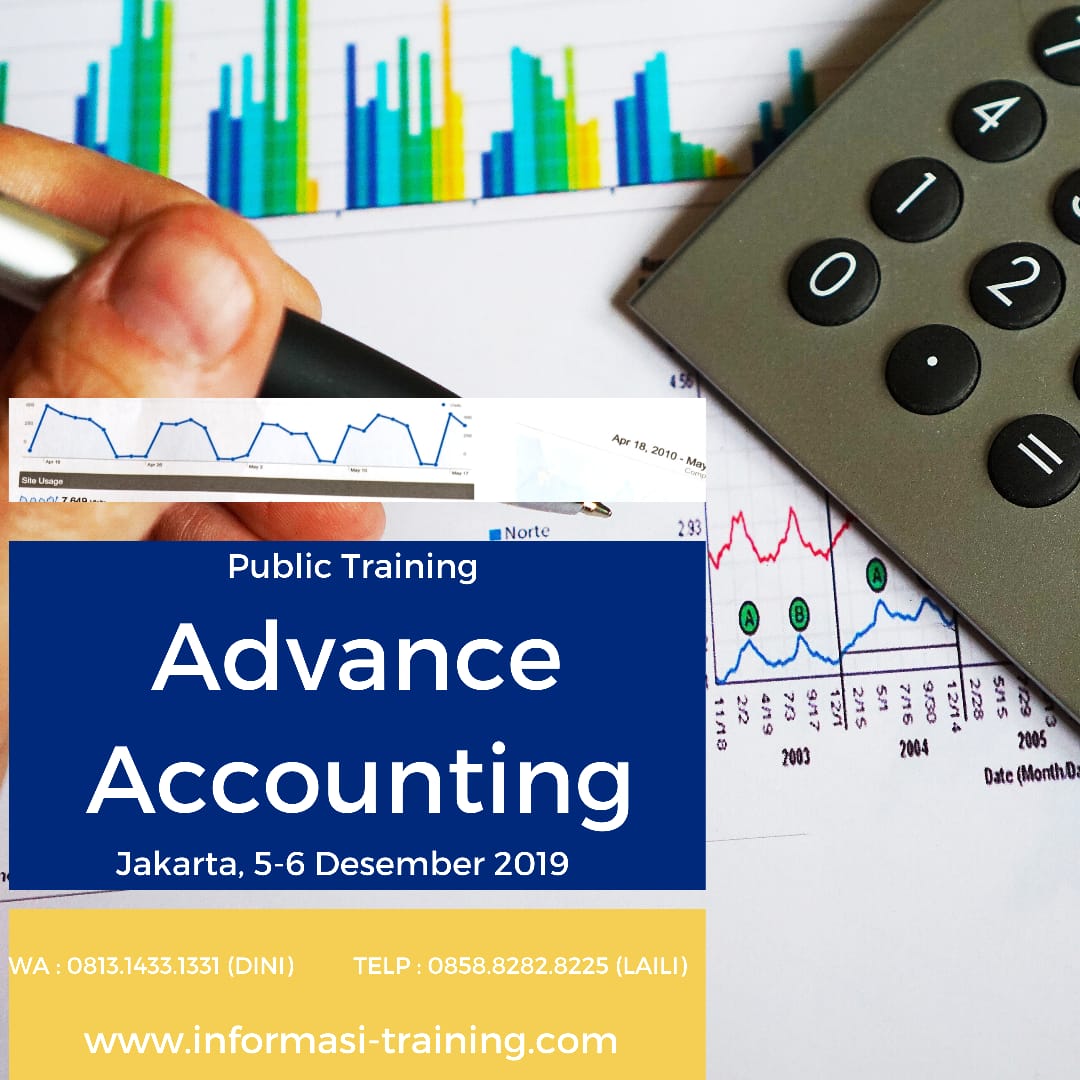 Acara
05 – 06 Desember 2019 | Rp 4.500.000,- di Dreamtel/ Ibis Hotel, Jakarta – HALF CONFIRMED
09 – 10 Desember 2019 | Rp 4.500.000,- di Bandung – HALF CONFIRMED
ABSTRACK
Advanced Accounting is a continuation of the study of financial accounting. The areas of coverage in this course include issues concerning the operation of Partnerships, Business Combinations and Consolidated Financial Statements, and International Accounting Issues. These topics require a working knowledge of GAAP and Professional Pronouncements.
The course is designed to provide an understanding of the technical requirements as well as developing an appreciation for working with accounting pronouncements and research of accounting issues. Professional Communication skill for writing and speaking will be emphasized throughout the semester
OUTLINE ADVANCED ACCOUNTING

Business Combinations
Accounting for Investments
Equity Method
Introduction to business combinations
Accounting for business combinations
Consolidated statements: date of acquisition
Consolidated statements: after acquisition
Consolidated statements: allocation and depreciation of dierence between acquirees' implied fair and book values
Consolidated statements: intercompany dierences
Segment and interim reporting
International Financial reporting standards
Accounting for foreign currency transactions and hedging foreign exchange risk
Translation of Financial statements of foreign afiliates
PARTICIPANT
Professionals for whom an in-depth accounting knowledge would prove beneficial
Jadwal dan tempat pelaksanaan training:
Tanggal 5-6 Desember 2019
Request pelaksanaan di luar Jakarta 2019
Bandung Rp 5.000.000 | Yogyakarta/ Surabaya Rp 6.000.000 | Malang Rp 6.500.000 | Bali Rp 7.000.000,-
Investation
Rp 4.500.000,- (Empat Juta Lima Ratus Ribu Rupiah) belum termasuk pajak
Include :
Sertifikat keikutsertaan.
Coffe Break 2X dan Lunch.
Souvenirs dan Seminar Kits.
Seminar Bag.
Modul
Discount 10% apabila pendaftaran group minimal 5 orang dari perusahaan yang sama (untuk satu pelatihan dan waktu yang sama).
Pelaksanaan training akan diselenggarakan apabila telah mencapai quota peserta 4-5 orang.
Konfirmasi pelaksanaan training akan dilakukan 3 (tiga hari sebelum tanggal pelaksanaan).
ADVANCED ACCOUNTING