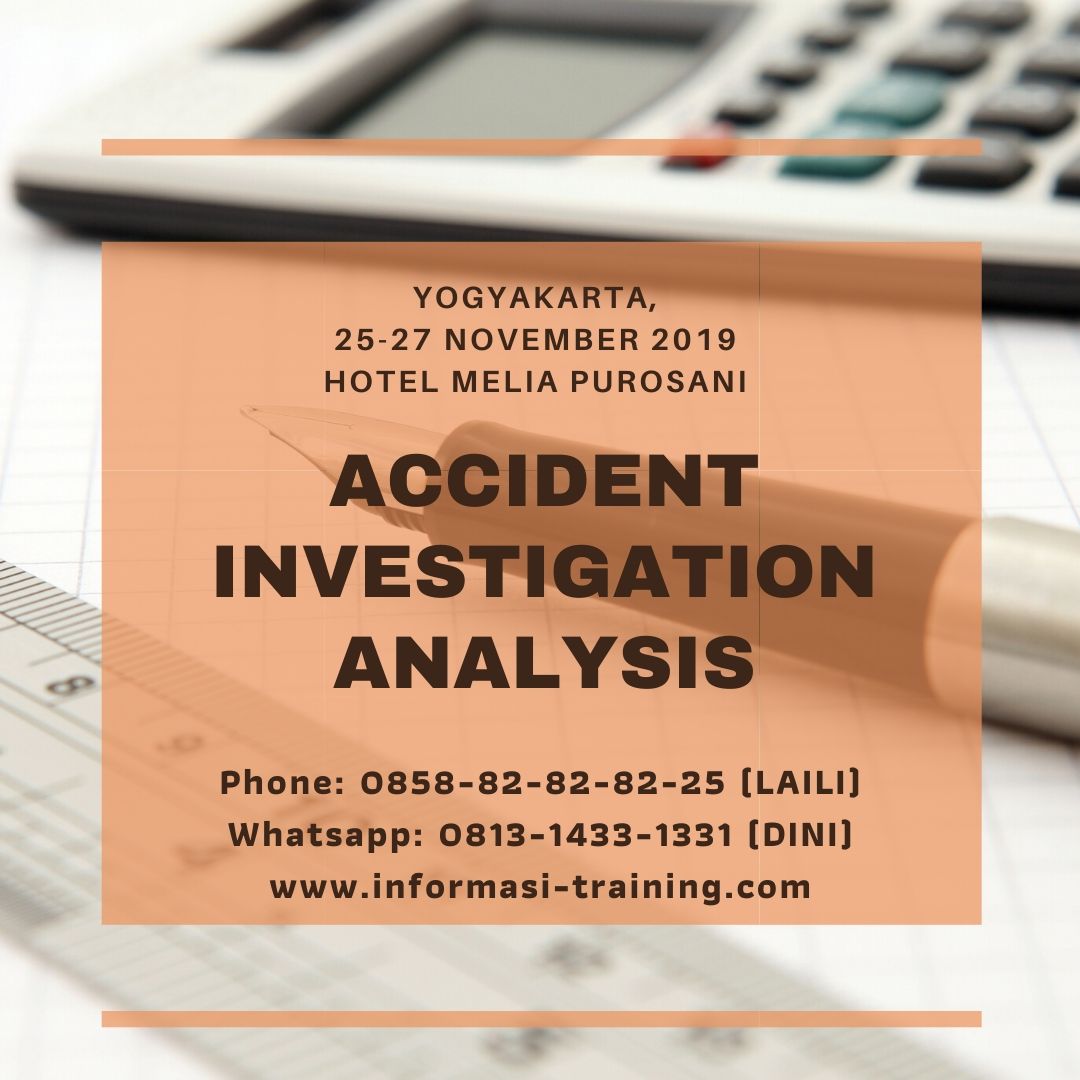 ACARA
18 – 20 November 2019 | Rp 6.400.000,- di Hotel Melia Purosani, Yogyakarta
25 – 27 November 2019 | Rp 6.400.000,- di Hotel Melia Purosani, Yogyakarta
02 – 04 Desember 2019 | Rp 6.400.000,- di Hotel Melia Purosani, Yogyakarta – CONFIRMED
Jadwal Training 2019 Selanjutnya …
Deskripsi Training Accident Investigation
Dampak kecelakaan kerja akan menelan biaya yang sangat besar, Angka kerugian akibat kecelakaan kerja di negara berkembang mencapai 8% GDP. (www.kompas.com, 22 Mei 2004). Kecelakaan kerja terjadi karena faktor internal dan ekternal, faktor internal misalnya kelelehan dan kantuk. Faktor eksternal misalnya buruknya visual display.
Untuk meminimalisir kecelakaan kerja, maka dapat dilakukan investigasi dan reporting agar dapat diketahui penyebab dari terjadinya kecelakaan kerja.  Training ini akan membahas hal tersebut, yang dimana diharapkan akan meminimlaisir kecelakaan kerja terulang kembali.
Tujuan Training Accident Investigation
Setelah mengikuti training ini diharapkan peserta dapat :
Perserta mampu memahami konsep incident investigation
Peserta mampu melakukan investigasi dan pelaporan kelcelakaan kerja
Materi Training Accident Investigation
  Definisi & konsep kecelakaan atau Insiden
  Pentingnya Pelaporan dan Penyelidikan Kecelakaan Kerja
  Pendekatan Investigasi yang sistematis
  Metode Investigasi (event tree, Fish bone dan SCAT Method)
  Root cause analysis/Analisa
  Akar penyebab Kecelakaan
  Menetapkan langkah-langkah perbaikan yang tepat
  Penerapan di lapangan &Pencegahan terjadinya kecelakaan kerja
  Penelusuran kejadian, dokumentasi dan pencatatan
Metode Training Accident Investigation
Presentasi, praktik, lecture, studi kasus, tanyajawab, brainstorming, diskusi
Peserta Training Accident Investigation
Engineering K3, Health and Safety dan departemen lain yang terkait dengan bagian kesehatan dan keselamatan kerja perusahaan.
Waktu  Dan Tempat Training 2019
Hotel Melia Purosani, Yogyakarta
18 – 20 November 2019
25 – 27 November 2019
02 -04 Desember 2019
9 – 11 Desember 2019
16 – 18 Desember 2019
23 – 24 Desember 2019
30 – 31 Desember 2019
Investasi dan Fasilitas
8.400.000 (Non Residential)
Quota minimum 2 peserta
Fasilitas : Certificate,Training kits, Lunch,Coffe Break, Souvenir
Untuk peserta luar kota disediakan transportasi antar-jemput dari Bandara/Stasiun ke Hotel khusus bagi perusahaan yang mengirimkan minimal 3 orang peserta)
Instruktur Training Accident Investigation
Ir. Henggar Hardiani M.Si and team (CV Terlampir)
Trainer dan konsultan di Perusahaan Nasional dan Multinasional. Beliau seorang praktisi yang menguasai bidang Environmental Science. Pengalaman mengajar dan mentraining lebih dari 10 tahun pada perusahaan BUMN maupun Perusahaan Swata (Nasional dan PMA).
ACCIDENT INVESTIGATION