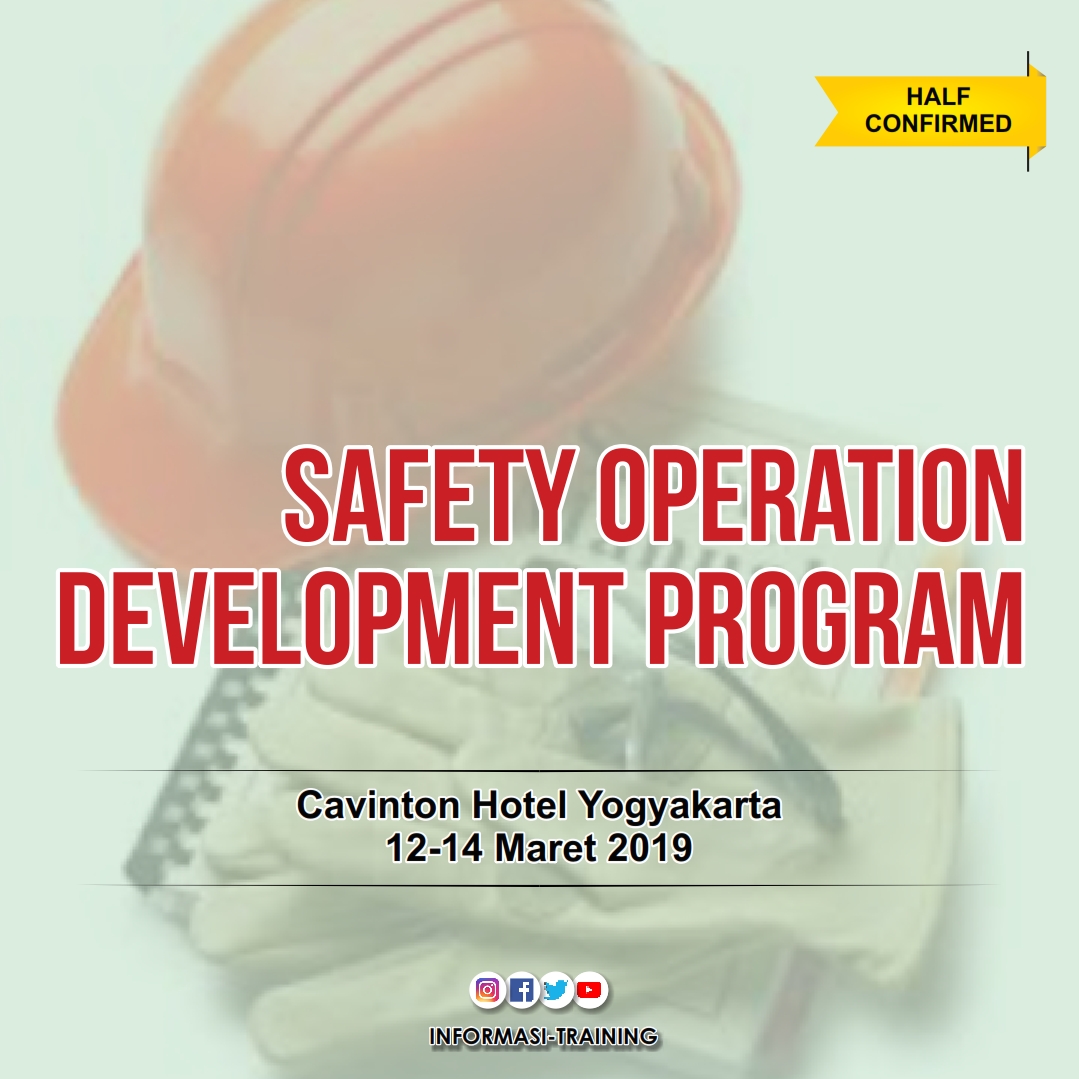 Acara
24 – 26 September 2019 | Rp 6.000.000 di Yogyakarta
15 – 17 Oktober 2019 | Rp 6.000.000 di Yogyakarta
05 – 07 November 2019 | Rp 6.000.000 di Yogyakarta
Jadwal Training 2019 Selanjutnya …
Deskripsi Training Safety Officer Development Program
Kecelakaan di tempat kerja merupakan kejadian yang jelas merugikan semua pihak yang terkait dalam perusahaan. Di tempat kerja, kecelakaan bisa saja siapa saja yang berada di lingkungan kerja, dari karyawan terendah sampai pimpinan perusahaan, para pemegang saham dan pihak-pihak lain yang terkait. Banyak kecelakaan yang sebenarnya tidak perlu terjadi, tetapi pada kenyataannya bisa terjadi dan dampaknya sangat merugikan. Oleh karena itu diperlukan pengetahuan untuk mencegahnya agar kerugian dapat dihindari.
Sebenarnya semua sebab dari kecelakaan bisa dicari, diketahui, dan dihindari sehingga semua kecelakaan bisa ditiadakan, sampai akhirnya tercapai bebas kecelakaan. Salah satu cara mencegah Kecelakaan Kerja yaitu dengan menerapkan kaidah-kaidah Keselamatan dan Kesehatan Kerja di tempat kerja, yang harus dipatuhi oleh semua karyawan. Tak dipungkiri, karyawan khususnya di bagian produksi, maintenance, & orang-orang lapangan sebenarnya turut mempunyai peran yang sangat penting dalam mencegah serta menanggulangi kecelakaan dan keadaan darurat di lokasi kerja. Untuk melakukan pekerjaan tersebut dibutuhkan kompetensi yang baik agar seseorang dapat memahami setiap risiko dan bahaya serta teknik penanggulangannya. Bagaimana caranya? Salah satu caranya adalah dengan membekali karyawan melalui program pelatihan tentang safety di perusahaan (safety officer). Diharapkan setelah mengikuti pelatihan ini peserta akan mampu mengembangkan ketrampilannya dan mau melakukan tindakan pencegahan kecelakaan ditempat kerjanya, sehingga dapat mengurangi resiko kecelakaan di tempat kerjanya masing-masing.
Tujuan  Training Safety Officer Development Program
Setelah mengikuti pelatihan ini peserta diharapkan mampu:
Meningkatkan kesadaran peserta terhadap pentingnya tindak pencegahan kecelakaan dan menggugahnya untuk mendorong karyawan dilingkungan kerjanya agar mau melakukan tindakan pencegahan kecelakaan
Meningkatkan pengetahuan peserta akan bahaya dan resiko, serta upaya pencegahan kecelakaan di lingkungan kerja
Memiliki kemampuan dalam melakukan Inspeksi Peralatan maupun Lapangan
Meningkatkan moral Perusahaan dan karyawan serta mengurangi resiko kerugian bagi Perusahaan
Menerapkan K3 di perusahaan
Materi Training Safety Officer Development Program
Materi pelatihan yang akan disampaikan adalah:
* BASIC SAFETY FOR SAFETY OFFICER

UU No.1 Thn 1970 dan Peraturan terkait tentang K3
Statistik Kecelakaan Kerja
Bahaya & risiko K3
Alat Pelindung Diri
Safety Communication: Safety Meeting, Rambu-rambu K3
Kesehatan Kerja
Promosi K3
Introduction of CSMS (Contractor Safety Management System)
Emergency response procedure
Systematic cause analysis techniques scat
Accident Inverstigation Technique
Iso 9001 and ohsas 18001 integration
Safety training observation program (stop) training
Risk management
Lock Out Tag Out (LOTO)
Hazard identification risk assessment (hira)
Job safety analysis & job safety observation

* HIRAC & JSA

Kerangka Pemikiran HIRAC dan JSA
Langkah – langkah pembuatan HIRAC & JSA
Qualitative Risk Matrix
Hierarchy of Control
Pembuatan HIRAC dan JSA

* HSE INSPECTION TECHNIQUE
Sesi ini akan membahas persiapan melakukan inspeksi, pelaksanaan inspeksi, dan follow up terhadap hasil inspeksi
Program Inspeksi
Manfaat Inspeksi K3 dan Macam-macam Inspeksi K3
Unsafe Act dan Unsafe Condition
Teknik Inspeksi K3
Laporan Inspeksi K3
Peserta Training Safety Officer Development Program
Pelatihan ini sesuai diikuti oleh:
Semua calon dan Anggota P2K3
Semua jajaran Manajer dan Supervisor Perusahaan mulai dari Bagian Produksi, Pemeliharaan, Engineering, Planning, Analis, Personalia, Pelatihan dan Pengembangan sampai dengan Sekuriti
Semua karyawan yang terkait dalam pengembangannya dan yang akan dicalonkan ke jenjang yang lebih tinggi
Candidat HSE Officer atau HSE Officer yang ingin meningkatkan kemampuan dalam bidang HSE, Pendidikan Formal minimal SMU / D3
Metode Training Safety Officer Development Program
Metode pembelajaran yang digunakan antara lain:
Presentasi
Diskusi/ Sharing
Study Kasus
Simulasi
Evaluasi
Batch 9: 24 – 26 September 2019
Batch 10: 15 – 17 Oktober 2019
Batch 11: 05 – 07 November 2019
Batch 12: 17 – 19 Desember 2019
08.00 – 16.00 WIB
Yogyakarta: Cavinton Hotel Yogyakarta ; Neo Malioboro Hotel Yogyakarta Ibis Styles Hotel Yogyakarta
Surabaya: Hotel Santika Pandegiling Surabaya
Malang: Best Western OJ Hotel Malang ; Harris Hotel & Convention Malang
Jakarta: Dreamtel Jakarta Hotel ; Ibis Jakarta Tamarin Hotel
Bandung: Golden Flower Hotel Bandung ; Serela Merdeka Hotel Bandung
Bali: Ibis Bali Kuta Hotel ; Harris Kuta Raya Hotel Bali
In House Training: Depend on request.
Instruktur Training Safety Officer Development Program
Patisina, ST, M.Eng
Instruktur adalah pakar di safety, sering menjadi nara sumber untuk training safety officer, safety management, & basic safety di beberapa instansi/perusahaan.
Biaya Training Safety Officer Development Program
6.000.000 IDR/ participant (for public training in Yogyakarta)  -> minimum quota of 2 participants
7.000.000 IDR/ participant (for public training in Bandung, Jakarta, Surabaya)  ->  minimum quota of 3 participants
8.000.000 IDR/ participant (for public training in Bali)  -> minimum quota of 3 participants
Fasilitas Training Safety Officer Development Program
INCLUDE:
Meeting Room at hotel, Coffe Break, Lunch
Module (hard & soft copy/flashdish)
Training Kit, Souvenir, Sertifikat
Airport pick up services
Transportation during training
EXCLUDE:
Penginapan peserta training
Pajak (Ppn 10 %)
SAFETY OFFICER DEVELOPMENT PROGRAM