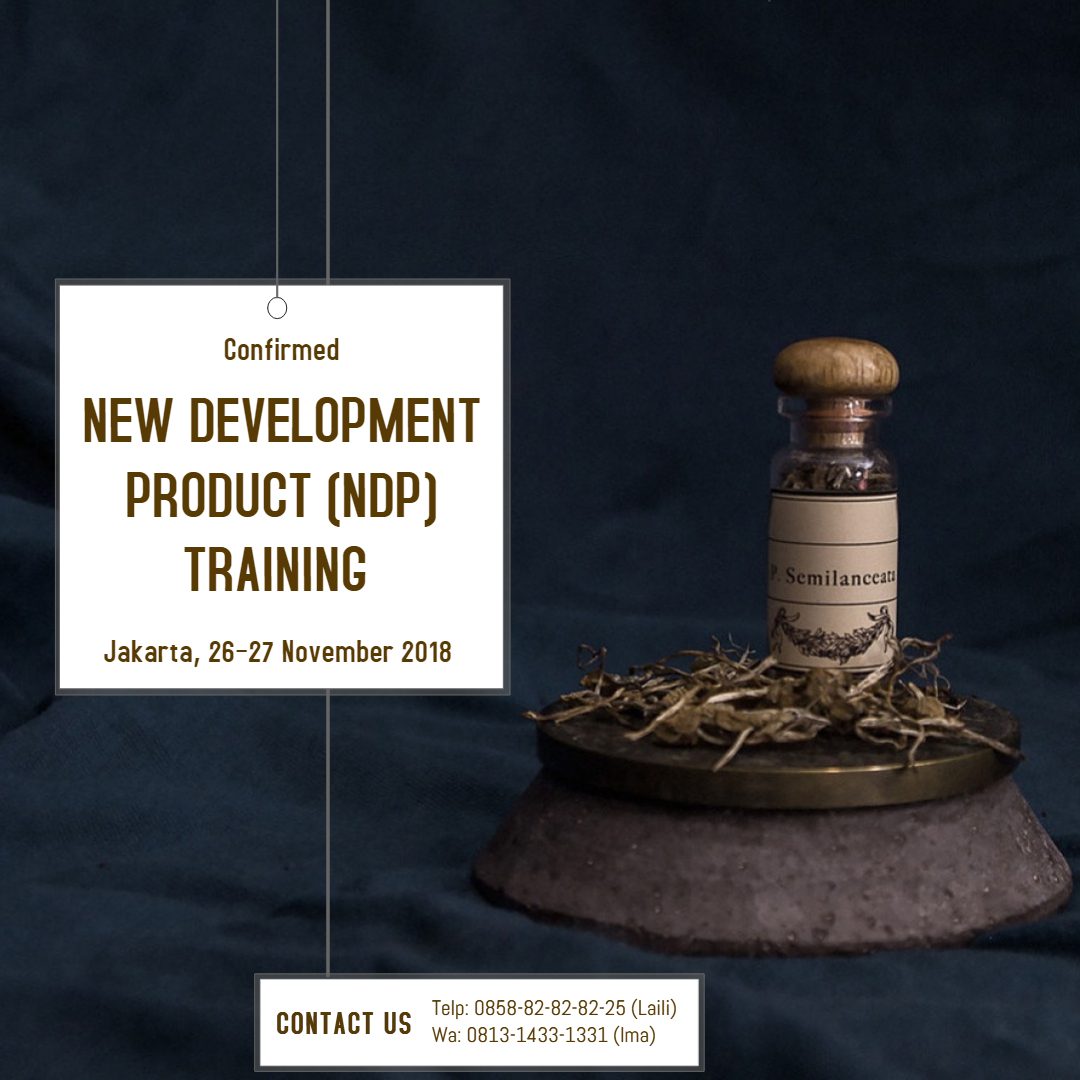 Acara
25 – 26 November 2019 | Rp 5.225.000 di Amaris Hotel/ Neo Hotel/ Santika Hotel, Jakarta
Deskripsi Training New Product Development (NPD)
Tahukah anda bahwa riset Delloitte dan Touche (1998) menunjukkan bahwa 95 % produk baru mengalami kegagalan. Sementara, AC Nielsen dalam risetnya (1999) di Eropa menunjukkan 90%  produk baru mengalami kegagalan.
Karenanya perlu ketelitian agar produk baru bisa "selamat" dipasar.
Untuk tetap bertahan di market, diperlukan kemampuan membuat produk baru,  baik melalui Market Penetration, Market Development, Product Development atau Diversification. Mengapa product development  itu penting? Sebab masa depan pertumbuhan perusahaan ditentukan oleh sukses produk baru. Disamping itu sudah menjadi tradisi bahwa cita-cita seorang usahawan atau pemasar yang paling mengesankan — kalau memang tidak boleh disebut paling tinggi — adalah sukses melahirkan atau melakukan launching produk baru.
Keluarga Tirto Utomo yang dibantu seorang Willy Sidharta berhasil menjadi kaya raya berkat satu merek saja yakni AQUA. Pengalaman lebih dramatis dialami Harry Sanusi yang meraih sukses berkat permen Kino. Dengan keberhasilannya itu nama Kino dijadikan payung kerajaan bisnisnya. Lihat juga Barry Lesmana yang namanya mendunia karena sukses me-launching produk baru di BCA dan Citibank. Atau seorang Sudhamek AWS yang meraih sukses berkat produk kacang atau dr. Boenjamin Setiawan melalui obat panu bernama Kalpanax. Dapatkan jurus-jurus yang sudah terbukti sukses di workshop ini.
Tujuan Training New Product Development (NPD)
Membekali peserta dengan berbagai tools agar peserta siap membangun produk  yang handal dan siap bertempur di pasar yang hyperkompetitif.
Materi Training New Product Development (NPD)
Hari 1
Understanding Organization Goals and Road Map –
Ansoff Matrix –
Red Ocean vs Blue Ocean –
Launching new product
.Kegagalan peluncuran produk baru.
Mendapatkan ide produk baru.
IKSF: Customer and Competitor.
Memahamai ekspektasi dan GAP.
Hari 2
Menciptakan kemasan yang menjual,
Apa yang harus dilakukan sebelum memasarkan produk,
Bagaimana strategi mengembangkan brand baru,
Bagaimana melakukan Segmentasi,
Targeting dan positioning,
Bagaimana menetapkan harga,
Bagaimana melakukan promosi,
Bagaimana membangun channel of distribution,
Melakukan persiapan launching,
Selling in dan menciptakan selling out,
Menciptakan kepuasan pelanggan,
Melakukan evaluasi serta mempertahankan produk yang sukses agar tetap bertahan di pasar.
Fasilitator Training New Product Development (NPD)
Daniel Saputro, MM., MBA.
Daniel Saputro dan tim BusinessBuddy Int memiliki pengalaman 21 tahun dalam perbaikan kinerja perusahaan. Kami aktif memberikan pembekalan maupun konsultasi terutama di bidang transformasi dan manajemen perubahan di 4 area yakni: Business Model (termasuk Balanced Scorecard dan Strategy Map)  – People Development  – Process – Culture Internalization, yang mengarah ke Auto Pilot System.
Nuqul Group (Yordania) dan Banpu (Thailand) adalah contoh perusahaan internasional yang telah menggunakan jasa konsultasinya. Di dalam negeri, Daniel menjadi konsultan bagi banyak perusahaan maupun institusi pemerintah. Di antaranya Jamsostek, Bea Cukai, Sekretariat DPR, Jasa Sarana BUMD Jabara, BioFarma Bandung, Kementerian Keuangan PUSINTEK, Pertamina, LPP BUMN di Jogja dan BTN.
Perusahaan swasta nasional sering menunjuk Daniel sebagai konsultan. Sebut saja Indocement, Triputra, Bosowa (Makasar), Tunas Ridean Group, MusimMas (Medan), Capella (Medan), CPSSoft, ILP, Darya Varia, KPUC (Samarinda), Medifarma, Prafa. Indospring (Surabaya) dan Acer (Jakarta) , Infomedia dan Sentul City. Beliau juga aktif memberikan pelatihan di Chevron, Astra, Commonwealth Bank, TOTAL EP, Holcim dan banyak lainnya
Di sisi lain, Daniel Saputro juga memiliki minat yang besar terhadap dunia pendidikan. Karena itu, kini, dia aktif menjadi fasilitator MiniMBA serta pengajar mata kuliah bisnis dan pemasaran di program S2. Daniel juga menggunakan tulisan sebagai sarana untuk membagikan ilmunya. Ia menjadi kontributor untuk Tabloid KONTAN, Swa, dan Jakarta Post.
Untuk Family Business, kami membantu suksesi dan transformasi menuju  perusahaan yang lebih professional. Dengan cara membentuk Leadership yang profesional dan menggunakan KPI  berbasis balanced Scorecard.
Lokasi Training New Product Development (NPD)
Amaris Hotel La Codefin/ Neo Hotel – Kebayoran/ Hotel Santika Premiere Hayam Wuruk, Jakarta (Tentative)
Biaya Training New Product Development (NPD)
Rp. 4.150.000,- (Registration 3 person/more; payment 1 week before training)
Rp. 4.350.000,- (Reg 2 weeks before training ; payment 1 week before training)
Rp. 4.850.000,- (On The Spot; payment at the last training )
Rp. 5.225.000- (Full Fare)
New Product Development (NPD)