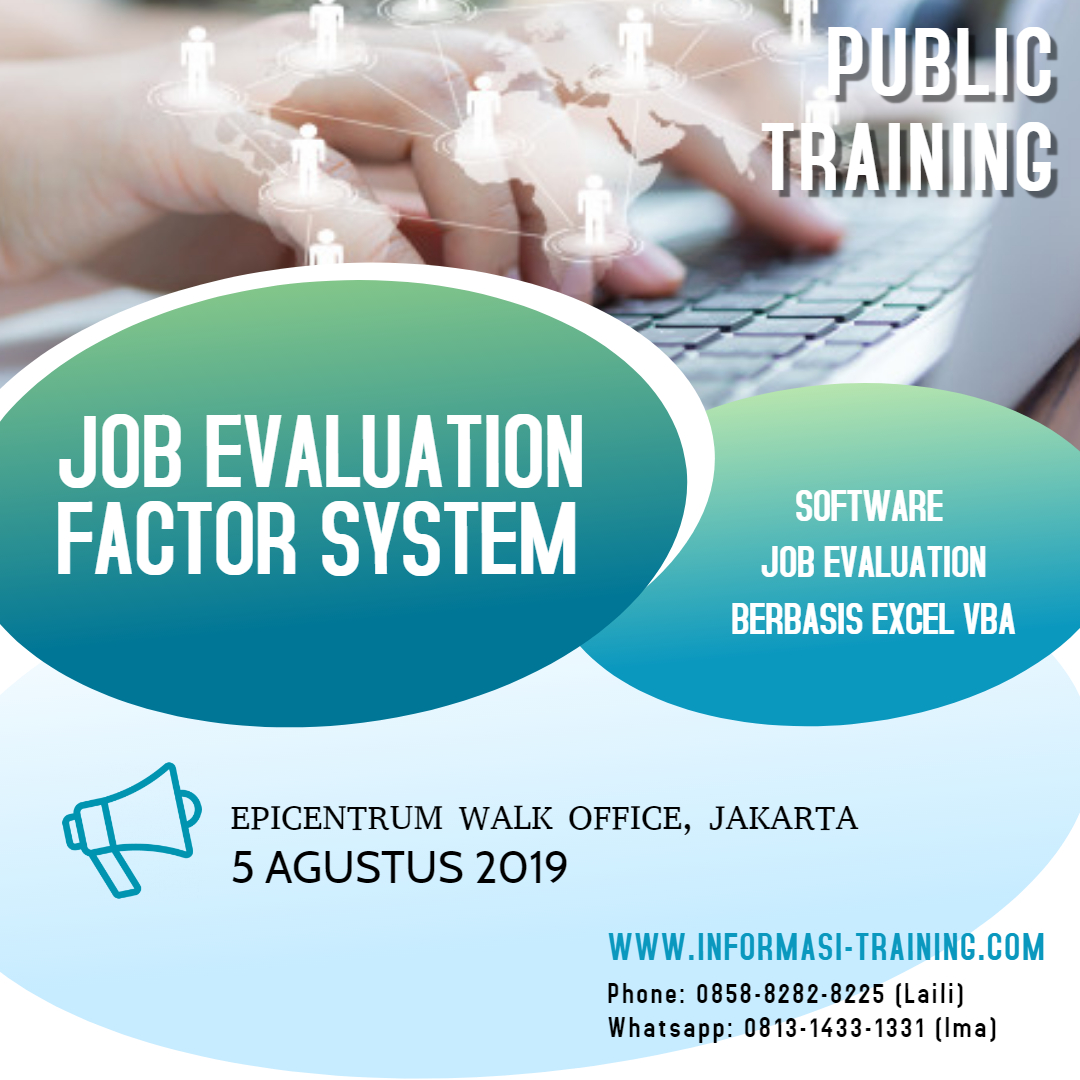 ACARA
09 September 2019 | Rp. 2.750.000,- di Epicentrum Walk Office, Jakarta
24 Desember 2019 | Rp. 2.750.000,- di Epicentrum Walk Office, Jakarta
PERTAMA DI INDONESIA !!
Job Evaluation sebagai bagian dari metode remunerasi, awalnya diperkenalkan oleh Edward Hay dan kini banyak dipakai serta dikembangkan oleh para ahli di seluruh dunia. Job Evaluation sangat diperlukan dalam menentukan sebuah bobot pemegang jabatan sebagai informasi untuk menetapkan job grading atau pangkat pemegang jabatan. Dari beberapa metode Job Evaluation yang ada, dalam pelatihan ini yang dipakai adalah metode logic analytical quantitative dengan memakai Compensable Point Factor, anda dapat membuatnya sendiri, dari NOL.
Pelatihan Job Evaluation Point Factor System ini dibuat memakai Software Excel 2007-2013 yang powerful dan sudah terprogram dengan rumus perhitungan yang logis dan sistematis, sehingga peserta dapat segera membuat laporan Job Grading Ideal seluruh pemegang jabatan dengan lebih akurat, cepat dan efektif dalam hitungan detik saja. Program Job Evaluation Point Factor System ini didesain dengan merangkum berbagai teori tentang Job Evaluation di seluruh dunia dan membandingkan hasil uji penerapannya dalam praktek organisasi selama puluhan tahun.
Mengapa memakai Software Excel?
Karena software excel menjadi pilihan karena sifat utama yang melekat pada Excel, yaitu :
Sangat mudah dioperasikan
Sederhana dan mudah dipelajari
Softwarenya sangat mudah diperoleh
Fungsi-fungsi Excel terbukti mampu membantu memecahkan pekerjaan paling rumit
Mampu mengolah database yang berjumlah besar dengan sangat cepat
Mampu menyajikan laporan yang menarik dan customized
Pekerjaan yang rutin dapat dibuat secara otomatis
Oleh karena itu, pengguna yang pernah belajar Excel, meskipun masih dasar sekali, akan dengan cepat dapat memakai Software ini untuk kemudian diterapkan pada pekerjaannya. Dengan dukungan bahasa Visual Basic for Application (VBA), dalam software ini sudah disediakan tombol-tombol yang berisi perintah-perintah macro, sehingga pengguna hanya tinggal klik-klik saja pada tombol tersebut, untuk kemudian komputer yang akan melaksanakan seluruh perintah dalam tombol tersebut dan menyajikan laporan ribuan karyawan hanya dalam hitungan detik saja.
Syaratnya mudah :
Siapkan laptop dengan excel 2007/2010/2013
Siapkan contoh data karyawan
Bisa memakai mouse…!!
Dapatkan Software Job Evaluation Point Factor System berbasis Excel dengan kelebihan feature sebagai berikut:
Compensable Factor, telah disiapkan sebanyak 10 main factor, masing-masing faktor dapat diisi dengan 5 sub-faktor, dan tiap main factor dapat ditentukan bobot dan jumlah pointnya.
Contoh Kamus Job Evaluation yang berisi Kode, Nama faktor, Definisi dan level atau tingkat tiap faktor mulai dari tingkat 1 sampai tingkat 10.
Database karyawan sebagai variabel program yang berisi nilai aktual level.
Tabel penghitung point yang berisi :

Kode
Nama faktor
Bobot tiap faktor
Jumlah poin tiap faktor
Jumlah level tiap faktor
Nilai Poin awal tiap faktor
Nilai poin tiap level, baik memakai step point, manual point maupun average point.
Dalam feature ini, perusahaan dapat menentukan nilai atau point setiap level faktor yang ada berdasarkan bobot faktor, level faktor dan nilai setiap level faktor.
Tabel penentu dan penghitung grading secara otomatis yang berisi :

Min dan max point factor
Urutan grade
Urutan kelas
Range salary, minimum salary, mid salary dan max salary.
Dalam feature ini, perusahaan dapat menentukan nilai atau point range terhadap grade, rentang gaji, jumlah kelas jabatan yag tersedia dan range gaji dari setiap grade yang ada.
Job Evaluation Matrix Point Standard, yang berisi :

Grade
Main Factor
Bobot Main Factor
Jumlah Level tiap faktor
Nilai point tiap faktor pada setiap grade.
Dalam feature ini setiap sub faktor pada setiap grade dapat ditentukan level faktornya, sehingga setiap grade dapat memiliki tingkat faktor yang berbeda terhadap grade lainnya.
Matrix pembobotan setiap faktor pada setiap grade.

Dalam feature ini, setiap divisi memiliki bobotnya masing-masing terhadap setiap sub faktor yang ada.
Job Evaluation Division Standard, yang berisi :

Nama main factor
Nama sub-factor
Definisi tiap level sub factor
Point tiap sub factor
Dalam feature ini, setiap divisi/departemen dapat membuat standardnya sendiri, sehingga setiap divisi dapat membuat laporan standar setiap grade yang ada.
Point Level Factor, yang berisi :

Nama sub-factor
Bobot sub-factor
Point sub-factor
Level sub-factor
Level point sub-factor
Dalam feature ini, setiap divisi/departemen dapat membuat laporan nilai setiap level pada setiap grade yang ada, sesuai standar yang telah ditetapkan.
Laporan lengkap setiap pemegang jabatan yang berisi :

Nama grade saat ini berbanding nama grade ideal atau yang seharusnya.
Individual grid report.
Point factor line graph.
Main factor bar graph compare.
Individual graph position.
Internal point factor graph report.
Peer to peer comparision.
Peer to peer level factor comparision.
Range salary compare tiap grade.
Total point factor saat ini berbanding total point factor ideal atau yang seharusnya.
Jumlah point gap antara point ideal dan point actual.
Di grade mana seharusnya pemegang jabatan sesuai point actual saat ini.
Berapa gaji ideal setiap karyawan sesuai posisi dan nilai aktual saat ini.

Laporan lengkap setiap karyawan yang berisi :

Point factor gap.
Point value gap.
Grade ideal.
Salary ideal.
Compa ratio.
Salary level.
Competency dan Qualification level.
Audit salary level.
Division report yang berisi laporan detail job evaluation per-divisi.
Graph position tiap karyawan dalam divisi tertentu.
Grade ideal tiap karyawan dalam divisi tertentu.
Standar ideal seluruh jabatan yang berisi nilai total point.
All graph position yang membandingkan posisi gaji aktual terhadap grafik ideal range salary min, mid, max.
All job classification position.

Feature untuk input hasil assessment point factor actual.
Feature Candidat Evaluation, dengan memasukkan nama, departemen, grade dan nilai aktual tiap level, maka akan dapat mengetahui total level point aktual saat ini, grade ideal sesuai nilai total point aktual dan nilai gaji ideal untuk calon karyawan.
Feature Grading Standar, yang berisi laporan standar level tiap grade jabatan dalam departemen tertentu, total standar point dan posisi level faktor tiap grade.
Feature Point Factor Compaison, yaitu membandingkan grade pemegang jabatan saat ini terhadap grade di atasnya atau grade di bawahnya.
Feature Grading Diagram yang memberikan gambaran pergerakan grafik setiap level faktor, antara point faktor ideal terhadap point faktor aktual, gaji aktual seluruh karyawan terhadap range ideal min, mid, max.
Contoh point chart dari Hay.
Contoh position code dari Mercer.
Contoh Dashboard report Technical Know How, Breadth of Management, Freedom to Think, Thinking Challenge, Freedom to Act, Magniture, Impact, Indeterminate.
Tentukan struktur dan skala upah Perusahaan anda dengan metode yang paling rasional dan tepat dengan memakai software ini.
Dengan sistem ini, anda tak perlu lagi bekerja secara manual, selain lama, tidak efisien juga akan terperangkap oleh human-error.
PENTING UNTUK DIKETAHUI !!
Seluruh peserta diwajibkan membawa Laptop dengan Ms.Excel min. versi 2007/2010/2013 karena akan langsung praktik (excel 2003 tidak jalan).
Seluruh Materi Pelatihan dalam bentuk Softcopy
*5% TEORI : 95% PRAKTEK
Anda secara bertahap akan belajar menggunakan aplikasi Job Evaluation Point Factor System, mulai dari membuat dasar-dasar database, membuat rumus menghitung Point Level sampai membuat seluruh bentuk laporan dan penyimpanan data digital tersaji dengan sempurna. Semuanya akan Anda dapatkan secara otomatis, mudah dan CEPAT.
INSTRUKTUR TRAINING Job Evaluation Point Factor System

Tim praktisi HR yang berpengalaman lebih dari 31 tahun
TARGET PESERTA Job Evaluation Point Factor System

Staf/Supervisor/Manager HRD, Pemimpin Organisasi, Peminat C&B
INVESTASI Job Evaluation Point Factor System

**Sudah termasuk Coffee Break 2X, Makan siang, Seminar kit, Sertifikat **
Job Evaluation Point Factor System