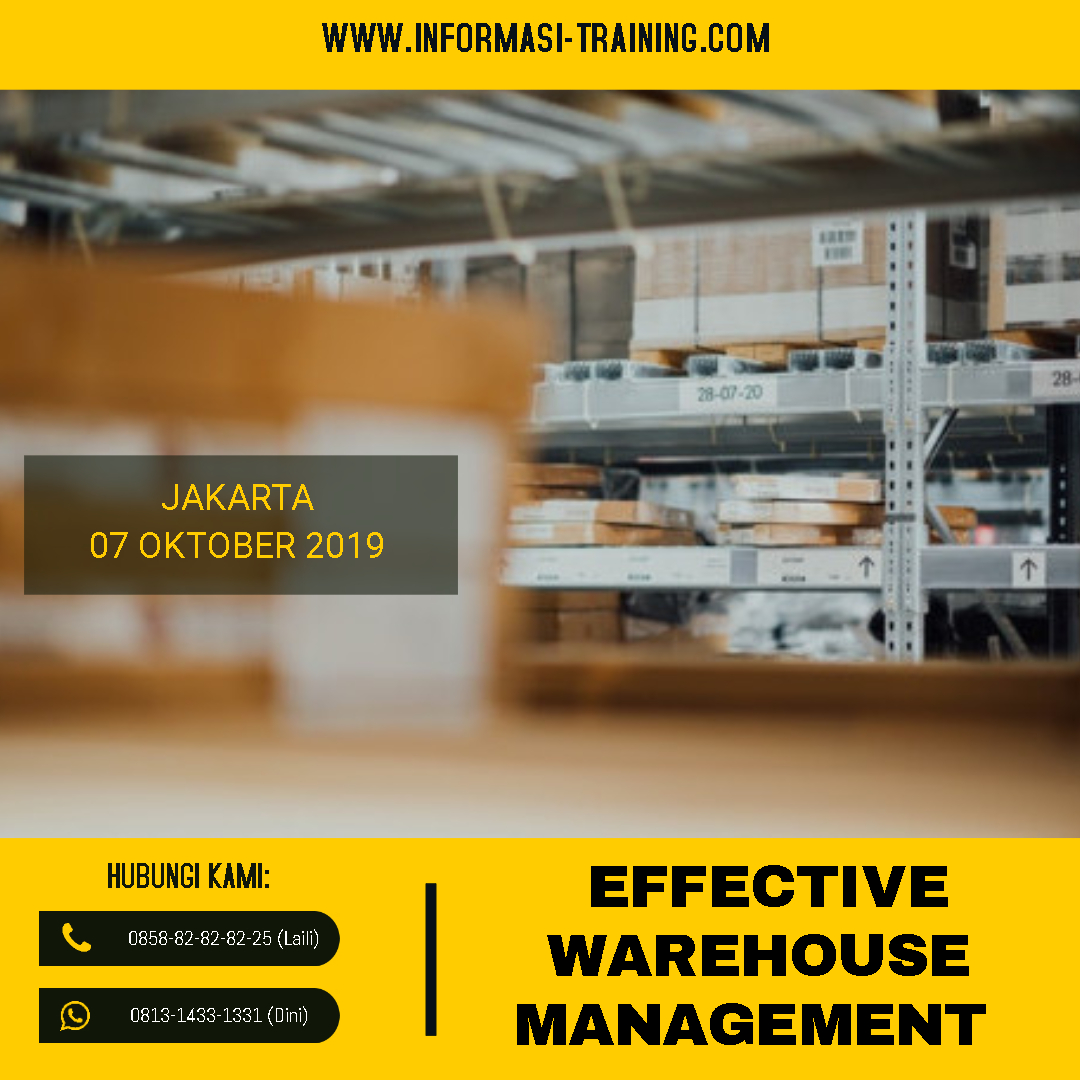 Acara
07 Oktober 2019 | Rp 2.750.000,- di Fave Hotel Melawai, Jakarta
11 November 2019 | Rp 2.750.000,- di Fave Hotel Melawai, Jakarta
02 Desember 2019 | Rp 2.750.000,- di Fave Hotel Melawai, Jakarta
Deskripsi Pelatihan Warehouse Management

Manajemen pergudangan (Warehouse Management) merupakan kunci penting dalam mendukung lancarnya operasi perusahaan. Salah satu tujuan dari pengelolaan pergudangan dan persediaan barang adalah untuk meningkatkan pelayanan bagi pengguna, meningkatkan efisiensi waktu pelayanan dan mengoptimalkan pemakaian fasilitas warehouse. Pengelolaan yang baik memerlukan pemahaman tentang peran dan fungsi manajemen pergudangan dan persediaan barang, proses dan prosedur kerja yang efektif dan efisien serta pemahaman tentang metode-metode up to date yang digunakan oleh manajemen pergudangan dan persediaan barang yang modern dengan dilengkapi pengelolaan sistem informasi.
Tujuan Pelatihan Warehouse Management
Memahami pentingnya warehouse management dan inventory yang efisien dan efektif sebagai unsur penunjang operasi.
Mengelola secara efektif dan efisien dengan metode-metode baru yang digunakan dalam pergudangan dan persediaan barang.
Mampu merencanakan dan mengendalikan inventory di warehouse untuk menjamin kontinuitas operasi pada tingkat biaya yang optimum.
Mampu mencegah pemborosan inventory serta mampu merencanakan pengadaan inventory, mengelola inventory secara optimal sebagai jaminan kelangsungan operasi perusahaan.
Materi Pelatihan Warehouse Management
Pengantar warehousing dan inventory management: peran dan perkembangan manajemen pergudangan dan persediaan barang.
Demand management: Metode penentuan jumlah kebutuhan persediaan
Metode ABC dalam pengklasifikasian jenis persediaan
Teknik pengendalian persediaan: Reorder point system untuk penurunan biaya persediaan
Perencanaan kebutuhan Material (Material requirement Planning)
Evaluasi dan pengukuran persediaan: FIFO,LIFO,cycle counting
Warehouse operation; Order procesing, Receiving, and Issuing, Order picking and Storage systems
Warehouse Layout and 5 S in Warehousing

Warehouse management

system and Warehouse information system
Warehouse performance analysis and audit warehousing
Material Handling basic operation, Equipment, techniques and procedures, The economic impact and efective method in material handling
Best Practice and Case study
Siapa harus hadir
Director Perusahaan,Manager Purchasing,Manager Warehouse,Staff  Warehouse,Staff Logistik.
Jadwal dan Tempat  Training Warehouse Management
07 Oktober 2019
11 November 2019
02 Desember 2019
Fave Hotel Melawai/ Mercantile Athletic Club, Jakarta
Warehouse Management Workshop Leader
Ir Dorry Sonata M.Eng.Sc.,MM. Atau Dono Prihadi .M.Ec
more than 17 years experience in Manufacturing, Operations, Maintenance, Human resource at some multinasional company (Sumitomo Corporation, Firmenich,British American Tobacco, AMCOR Asia, Essilor Technology Center) in Indonesia at Senior Level position.
Dengan pengetahuan mendalam di bidang SCM, beliau akan membagi pengalaman, knowledge dan skillnya kepada peserta


Training Fee
Rp. 2.750.000,- Peserta Non-Residential.
Sudah termasuk Sertifikat, Training Modules, Workshop Kit, Lunch, Snack dan Foto 10R
EFFECTIVE WAREHOUSE MANAGEMENT