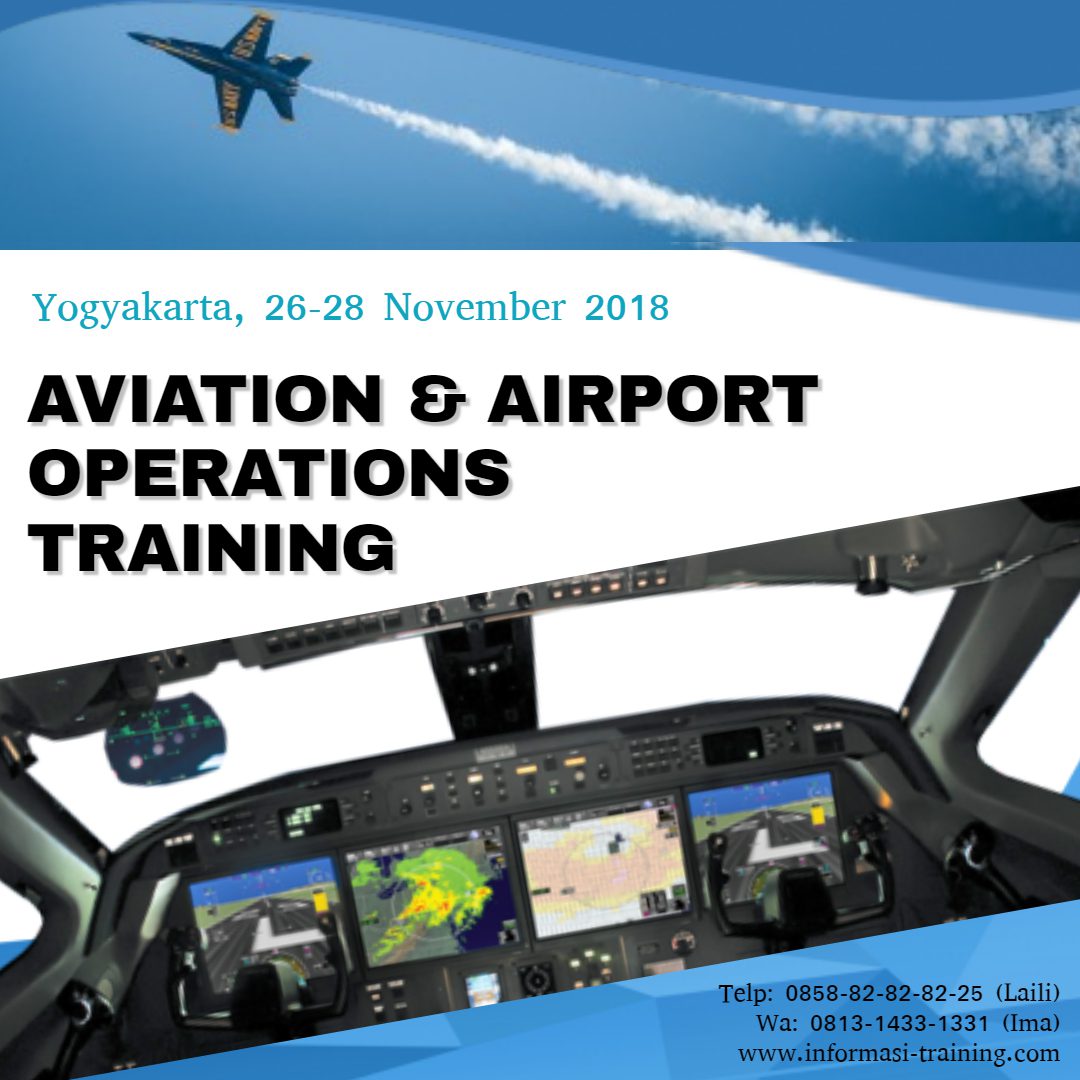 Acara
06 – 08 Februari 2019 | Rp 6.750.000/ peserta di Yogyakarta
11 – 13 Maret 2019 | Rp 6.750.000/ peserta di Yogyakarta
08 – 10 April 2019 | Rp 6.750.000/ peserta di Yogyakarta
27 – 29 Mei 2019 | Rp 6.750.000/ peserta di Yogyakarta
Jadwal Training 2019 Selanjutnya …
AVIATION & AIRPORT OPERATIONS TRAINING INTRODUCTION
Pelatihan aviation & airport operations ini dibuat untuk professional yang terkait dengan transportasi udara, regulator Penerbangan, operator Penerbangan, Managers Airlines,  dan Profesional yang ingin mendalami bidang Transportasi udara khususnya terkait dengan Kebandarudaraan dan operasional kegiatan Bandar Udara. Peserta akan mendapatkan pengetahuan dan informasi dengan terperinci dalam aktifitas di Bandar Udara, operasional Penerbangan, aktifitas Tower (ATC), Aircraft movement centre dan sebagainya.
AVIATION & AIRPORT OPERATIONS TRAINING OBJECTIVES
Peserta dapat memahami Kebandar Udaraan, Pengertian, bagian-bagain dan aktifitasnya
Peserta dapat memahami alur pergerekan Penumpang, Bagasi dan Cargo
Peserta dapat memahami pergerakan Pesawat di Apron, Runway, Taxi way
Peserta mampu mengklasifikasikan dan memahami bagian-bagian dari Air side dan Land Side
Peserta mampu mengidentifikasi apa yang dimaksud dengan Runway, Stop Way, Clear way, TORA,TODA, ASDA,dll .
Peserta dapat memahami tentang IATA, ICAO, KEMENHUBUD dan aturan yang melandasinya
Peserta mampu mengidentifikasi aktifitas dan kegiatan pada saat pesawat berada di APRON
Peserta memahami tata cara Penanganan Penumpang di Bandar Udara, Special Passanger ( UM, VIP, Blind Pax, Elders, Fregnant Mother,etc)
Peserta mampu mendeskripsikan Barang-barang yang boleh di bawa ke atas Pesawat dan yang tidak boleh di bawa
Peserta memahami tata cara Ramp Handling, Parking, Marshalling, Refueling, Loading/Unloading
Peserta memahami komunikasi Penerbangan menurut standart International
Peserta memahami 2 letter code, 3 letter code dan 4 letter code pada standar penerbangan
Peserta memahami peralatan yang digunakan pada saat operational penerbangan di darat (APRON)
AVIATION & AIRPORT OPERATIONS TRAINING OUTLINE
Sejarah Penerbangan dunia dan sejarah organisasi Penerbangan dunia, ICAO, IATA, FAA dan lain lain.
Penjelasan tentang Kebandarudaraan, Air side dan bagian-bagiannya
Land Side dan bagian bagiannya.
Pengertian Apron, Taxi way, Run way dan juga TORA,TORA dan ASDA. Kegiatan operasional selama barada di ground (Tata Operasi Darat).
Procedure penanganan penumpang, bagasi dan cargo
Identifikasi dan klasifikasi dari Barang Berbahaya (Dangerous Goods) yang tidak bisa dibawa dalam Pesawat.
Pemahaman tentang Ramp Handling, Marshalling, Refueling, Loading/Unloading dalam aktifitas Penerbangan.
Memahami peralatan yang digunakan dalam kegiatan operasi Penerbangan.
Komunikasi Penerbangan dan bagian-bagian dalam monitoring dan service Air Traffic.
Memahami pengertian 2 letter code, 3 letter code dan 4 letter code dalam dunia Penerbangan.
AVIATION & AIRPORT OPERATIONS TRAINING INSTRUCTOR 
 Rahimudin, MT. and Team
Rahimudin,MT. is graduated from University Of Gadjahmada, Magister Of Transport Engineering, Management Of Transportation for his magister program, and University Of Indonesia, Metallurgical Engineering for his bachelor program. he is also as lecturer at STTKD (Sekolah Tinggi Teknologi Dirgantara) Yogyakarta. He has been being instructor for some training class for training topics on DG, Cargo handling, Ramp Handling, Air cargo, dangerous goods, Passenger and baggage Handling, Aviation Security, etc.  His working experiences such as at  PT. Bouraq Indonesia Airlines with positions for: Sales Executive, Station Manager, Business Development, Flight Operations Officer ( FOO ), Flight Operations & Load Control Officer, Technical Support, Engineering Project. At PT. Indonesia Airasia as Station Manager.  At PT. Agility International (Agility Logistics) as Sales Executive  Agility Logistics, etc.
AVIATION & AIRPORT OPERATIONS TRAINING VENUE
Yogyakarta (Ibis Styles Hotel/ Ibis Malioboro Hotel/ Jambuluwuk Hotel/ Cavinton Hotel/ Grand Zuri Hotel, dll)
TRAINING DURATION 
3 days
06 Feb 2019-08 Feb 2019
11 Mar 2019-13 Mar 2019
08 Apr 2019-10 Apr 2019
27 Mei 2019-29 Mei 2019
26 Jun 2019-28 Jun 2019
01 Jul 2019-03 Jul 2019
12 Agust 2019-14 Agust 2019
09 Sep 2019-11 Sep 2019
30 Sep 2019-02 Okt 2019
11 Nop 2019-13 Nop 2019
09 Des 2019-11 Des 2019
INVESTMENT PRICE/PERSON
Rp. 6.750.000/person (full fare) or
Rp. 6.500.000/person (early bird, payment 1 week before training) or
Rp. 6.250.000/person (if there are 3 persons or more from the same company
FACILITIES FOR PARTICIPANTS
Modul Training
Flashdisk Training berisi materi training
Sertifikat
ATK: NoteBook dan Ballpoint
T-Shirt
Ransel
Foto Training
Ruang Training dengan fasilitas Full AC dan multimedia
Makan siang dan 2 kali coffeebreak
Instruktur yang Qualified
Transportasi untuk peserta dari hotel penginapan ke hotel tempat training – PP (jika peserta minimal dari satu perusahaan ada 4 peserta)
INTRODUCTION AVIATION & AIRPORT OPERATIONS